A pit stop on Project Arrow's tour drove home what Canada is capable of.
On Aug. 15, the Automotive Parts Manufacturers' Association (APMA) was at Northern College with Project Arrow, a zero-emissions concept vehicle built to showcase Canadian innovation.
A shift to electric vehicles (EVs) could mean a change in what minerals Timmins is known for.
Traditionally, the area is known for the gold that's been mined for more than a century.
As the focus moves to critical minerals needed for EV batteries, Ontario Mines Minister George Pirie said those minerals will come from Northern Ontario, where there are lithium, cadmium, cobalt and nickel deposits.
"This is going to be the hub of the minerals industry, the mining of them, right here in Northern Ontario. We have said this again, and again, and again — we've got the materials that the world needs now right here in our backyard," he said.
Canada's strategy on critical minerals has been perfect in wanting to see minerals to companies wanting to build batteries in Canada, said APMA's chief technical officer, Colin Singh Dhillon.
"What it will do hopefully for Timmins is, not only does it kind of give it a change in the nature of what was being mined … but now it allows miners and companies to come in and look at these critical minerals. But then the question's also asked, could Timmins look at processing these materials in Timmins, Ontario, as well?" he said.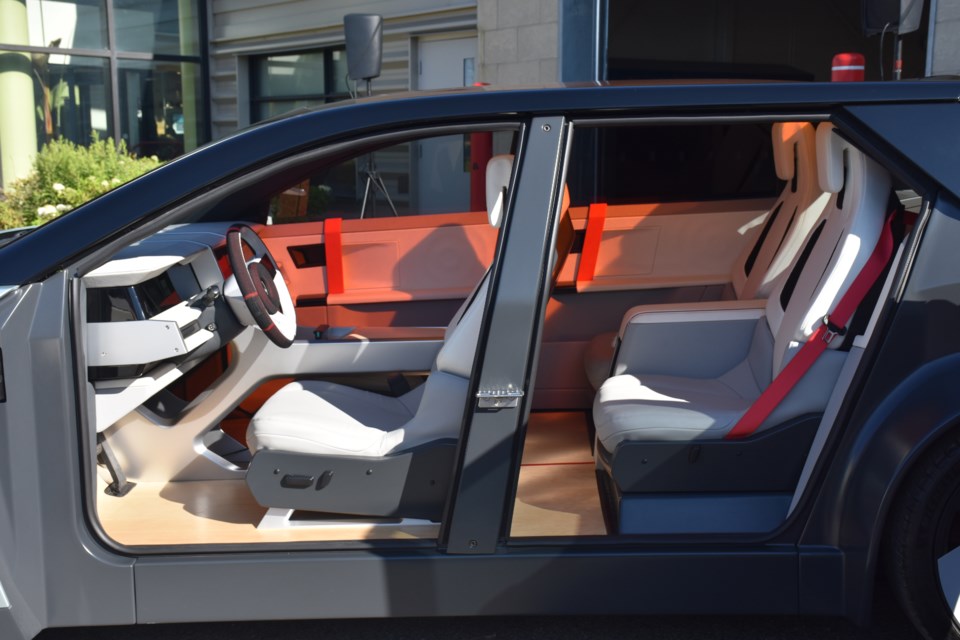 Singh was the lead on Project Arrow.
The idea to build an all-Canadian concept vehicle came to life in December 2019 and by January, they were launching the project.
"Everything from the ground up. It is a completely Canadian-built vehicle, ground up. Motor's Canadian, wheel's Canadian, everything," he said.
Project Arrow is a level three autonomous vehicle, it has maple floors, fake leather seats and a modern look.
When the battery's fully charged, the range is about 500 kilometres, and Dhillon said it can go from zero to 100 km/h in a very reasonable time.
Don't expect to see it on the market any time soon, though.
"We're a trade association that represents car parts manufacturers. Our objective was to build a demonstration platform so people can go, 'Oh my god, that's a great-looking car. Whose software and whose hardware and whose body panels and plastics are on there?' And then that gives those companies an opportunity to go to a GM or a Toyota, a global OEM (original equipment manufacturer) and say, 'Our technology's on this car, we've proven it, so we're looking to be awarded business,'" he said.
"One of the biggest challenges is, when you're a startup and you come up with something very unique, the OEMs, the car makers go, 'Have you integrated it onto any car?'"
Now, said Dhillon, some of those startups can say their technology is on Project Arrow.
The response to the project has been "amazing."
Just like its namesake, the Avro Arrow, Dhillon said the car is showing Canadians they're capable of hitting the high points.
"We need to just be able to empower and help to change the culture of Canadians to say, look, we've done this and we're a trade association. Imagine what you can do if you actually have a full team just focused on building vehicles," he said.
— TimminsToday