In addressing some of remote Canada's most pressing issues — unreliable transportation, the high cost of goods, inadequate housing — there's growing support behind airships as a viable means to creating solutions.
Industry experts explored those possibilities May 30-31, during Airships to the Arctic, an online conference hosted by the Asper School of Business at the University of Manitoba.
Barry Prentice, director of the university's Transportation Institute, has studied airships for the last two decades.
Many of the same problems he's identified in that time have continued or worsened, he noted, citing climate change and transportation among them.
"We already had limited transportation and now it's becoming more limited, so the airships are a necessary means to access the North," Prentice said.
"It's also necessary for us to cut down on carbon emissions and one of the ways to do this is to move to a technology that doesn't have carbon-based fuels, and the airships have the potential to do this."
To weigh the benefits of airships in addressing these issues, the Canadian Arctic Innovation Association recently commissioned a study funded by Transport Canada through its National Corridors Fund and with participation from the private sector.
A project "initiated by people in the North for the North," the Cargo Airship Strategy for Northern Canada sought to answer three questions: how would airship corridors be organized, is there enough market demand to make an airship service profitable, and could such a service be self-sustaining?
The association centred its case on the need for housing in the North.
Citing figures from Statistics Canada, Prentice said 40 per cent of all houses in Inuit communities are inadequate for the number of people living there, while the same is true for 25 per cent of housing on First Nations, and 10 per cent for Métis households.
"This is an area that, obviously, we need to do something about," Prentice said.​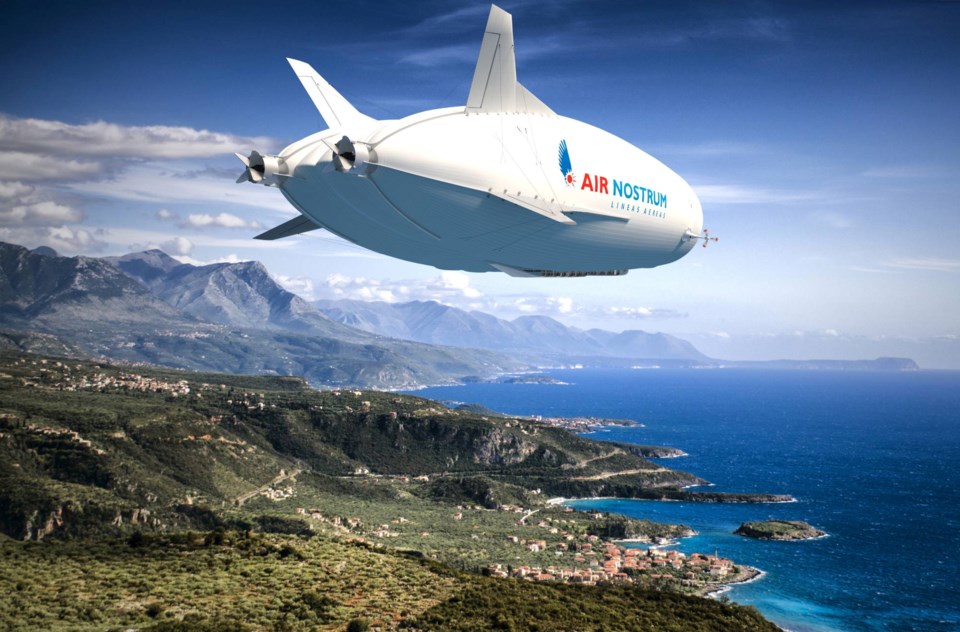 ​Airships could help move building materials, as well as fuel, vehicles, groceries, motors and boats for those communities in need, he added.
The cost to operate an airship service could be offset by also deploying them to remote mining camps where it's too cost-prohibitive to build roads for trucking in supplies and trucking out ore for processing.
Torngat Metals is a member of the association that's proposing a rare earths mine at its property in Nunavik, northern Québec.
The company has suggested using airships to fly ore 240 kilometres south to Schefferville, where it would then be transported by rail and marine to Bécancour, which is angling to become a centre for metals processing.
If mine operations like Torngat's introduce airship service, it could benefit nearby communities.
"There'd be capacity to also take goods to remote communities, drop those off first, and then go to the mine to pick up concentrates to come back," Prentice said. "The two are complementary; they're not competitive."
Because airship freight rates are lower than those of a traditional airplane, Prentice said, introducing regular service in the North would help lower the cost of other goods coming into the region year-round.
Twenty or more companies around the globe currently have airship projects in various stages of development, he noted.
One of the more advanced-stage companies is Hybrid Air Vehicles, based in Bedford, England.
The company's Airlander 10 model is a hybrid aircraft measuring 92 metres long with a payload capacity of 10 tonnes. It's estimated to reduce carbon emissions by 70 per cent compared to that of a traditional airplane.
Its prototype has gone through three rounds of test flights, including early work with the U.S. Department of Defence, and the company has already secured at least one commercial contract for 10 airships with Air Nostrum, a Spanish airline, to be delivered in 2027.
Because it takes off and lands from the ground, the Airlander can load and unload passengers and cargo anywhere — on grass, sand, water, ice, marsh — which gives it the flexibility of a helicopter with the power of a plane.
"We're finding particular resonance in the market — even in things like passenger operations — for the ability to go away from traditional airfield infrastructure, to be able to operate from areas much in the way helicopters do, to be able to load and unload passengers in parts of the world that are hard to get to right now, and also to upscale the capability of existing infrastructure," said Tom Grundy, Hybrid Air Vehicles' CEO.
In the argument against airships, critics are quick to point to their slow pace of travel, he noted.
But Grundy argued that the majority of the world's freight is shipped by equally slow means of conveyance — road, ship or rail. Airships have the advantage of low carbon emissions, a factor that is carrying more influence with investors as the world looks for solutions to combat the impact of climate change.
In addition to hauling freight and passenger travel, Grundy said HAV is looking to sectors such as communications and surveillance as well as tourism and leisure travel for future applications.
The Airlander 10 model will be replicated for the Airlander 50, currently in the planning stages, which will have a payload of 50 tonnes, and the Airlander 200, a future design that would be able to carry 200 tonnes and travel at long distances.
Grundy said having one aircraft design to serve multiple uses is helping get their airship to market faster.
"What that's allowing us to do is step our way through markets where revenues can start to flow early whilst always having an eye on that growth path to larger aircraft and moving more and more into that mainstream logistics market," Grundy said.​​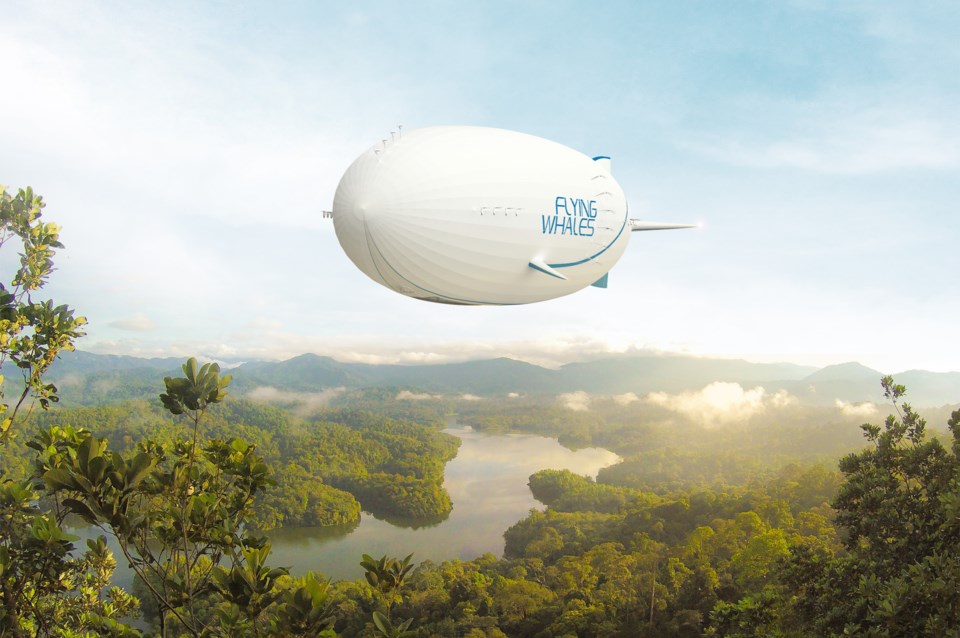 ​​Flying Whales, a France-based company that was launched in 2012, is developing the LCA60T, a 200-metre-long lighter-than-air vessel with a 60-tonne payload capacity.
With a cargo hold measuring 96 metres long, eight metres high, and seven metres wide, it's being designed with heavy load transport in mind and will come with underbelly slings for additional carrying capacity.
Octave Jolimoy, Flying Whales' project manager, said the company's primary target industries are construction, forestry, industry, power, and humanitarian aid and relief. But it's the last sector that's currently driving development.
'Flying Care' is the name given to a division of the company that's focused on creating a mobile health-care facility that could provide care for people in underserviced and remote areas of the world.
"Everything that you would need in a standard hospital is transported by airship and delivered anywhere," Jolimoy said.
The company is proposing a multi-purpose hospital that would come fully stocked with the equipment and supplies needed to provide general consultations, imaging services, pharmacy services, laboratory testing, an operating room, and an intensive care unit.
Primarily, Flying Care would target the treatment of non-communicable diseases, such as cancer and cardiovascular disease, he added.
The airship would fly in to an area, lowering the hospital onto a site where it would spend a defined amount of time treating patients. Once the work is done for that period, the hospital would pack up again and fly to the next location in its predefined circuit. After completing the circuit, the airship would return to base for maintenance and restocking before embarking on its next tour.
Jolimoy said the company has identified remote areas including northern Canada, Amazonia/Brazil, and South Africa as the regions most in need of these services.
"Of course, it's very diverse zones with very different characteristics and different countries," Jolimoy said. "But the needs are there, and the solution we are deploying would be very efficient in several of these countries."​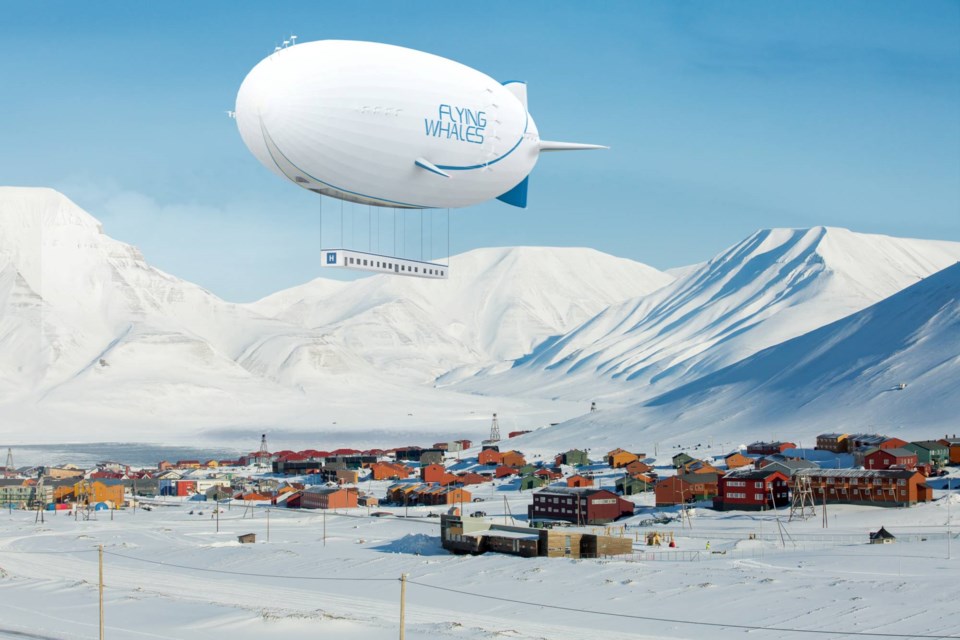 ​Though Flying Whales has yet to create a working prototype, the company is gaining traction with a range of partners that are contributing capital and expertise to its development.
Last summer, the company received €122 million (about CAD$175.5 million) from the French government, and an additional $55 million from the provincial government in Quebec, where the company has set up a subsidiary.
Its list of strategic partners includes the global consulting firm Roland Berger, the French engineering company Ingérop, and Siemens, among others.
Though Flying Care is aimed at providing a year-round health-care solution for communities in need, Jolimoy said adapting the idea to disaster relief is "something we are investigating as well."
Following the conclusion of the Cargo Airship Strategy for Northern Canada, Prentice said the group concluded that airship service can be viable in the North, and it's made a number of recommendations.
The federal government needs a clear policy statement about airships: will Canada support airship use in the North? There also needs to be a designated employee to liaise between industry and government.
To help push development forward, the association suggested setting up an innovation challenge that would reward participants for their ideas.
"There are a lot of dedicated airship companies that would like to serve this area," Prentice said. "If we had some kind of an x-prize, that would help to stimulate investment and encourage the airship companies to take a hard look at Canada. This would be a good way to move forward."
From a training perspective, pilot and aircraft maintenance engineer programs need to include airship curricula to get more people trained in the technology, with a heavy emphasis on training Indigenous students, Prentice added.
It's a strong belief of the association that people in the North should be the ones operating the ships, particularly from Inuit, First Nation and Métis communities.
Finally, he said, Canada needs a dedicated cold-weather testing facility where airships could undergo rigorous testing to ensure they're air-worthy in colder climates. That's something his group at the University of Manitoba has been working on and continues to prioritize.