When Robert Brouillette joined his family's fabrication shop, City Welding, well over a decade ago, his dad, Georges, handed him a file on hiring foreign workers along with a simple request: "Get it done."
In the 34 years since Georges had started the Sudbury business, Canadian skilled workers had become scarcer. So he decided to look outside the country for the people he needed to grow his shop to its full potential.
A lawyer by training, Robert Brouillette wasn't easily intimidated by the labyrinthine tangle of programs, policies, regulations and guidelines that form the Canadian immigration system. In short order, City Welding found and hired its first foreign worker.
"I've been doing this since 2006," Brouillette said. "And we've been well into (a worker shortage) since 2006."
He didn't know it then, but developing a reliable pipeline of foreign skilled workers would become an integral part of the business, which services the industrial, commercial, transportation, logging, and construction industries from its facility in the northeast end of Sudbury.
Over the last 16 years, Brouillette estimates he's recruited more than 30 foreign workers from countries around the world — both for his own shop and for others — who have the skills, knowledge and capabilities that he's been unable to find here at home.
About 40 per cent of his current workforce is comprised of foreign workers who hail from Romania, India, the Philippines, Côte d'Ivoire, Morocco, Tunisia, and other countries.
In that time, he's watched as they've shared their cultures, become Canadian citizens, purchased homes, started families, and integrated into the Sudbury community. He's proud to have played a role in bringing them to Canada.
"With everything else, with all the other white noise for someone in my position, this is a feel-good one," said Brouillette, the current owner and president at City Welding. "It's unbelievable. That's why I'm doing it."
As the worker shortage intensifies, Brouillette decided this spring to make his side gig official. He launched his own recruiting firm, Y International, which will attract and recruit workers for companies across industries.
The name hearkens back to his reasoning for 'why' he's taking this approach: "I want to enrich lives, enrich the community, and enrich the economy."
Though he's starting out small, Brouillette anticipates hiring between five and 15 recruiters over the next three years, as well as setting up contacts in other countries who can do on-the-ground legwork to help get new workers prepared for their move to Canada.
A number of companies have already taken notice of his efforts.
Working with a Quebec firm, he has a mandate to hire up to 100 foreign workers for three projects; that includes 34 for a mine in Dubreuilville, 30 for a company with offices in Ontario and Quebec, and another 10 for a local business owner that operates several companies.
The latter is seeking everything from carpenters and tile setters to restaurant managers to autobody technicians, Brouillette said.
Another firm is seeking to hire 25 welders, he said, and there are discussions about setting up a facility in Mexico that will train Mexican workers in Canadian welding techniques before they immigrate to Canada.
He's also in talks with a national manufacturing consortium, which offers training and training subsidies, about the possibility of engaging the provincial government on trade missions to generate interest abroad.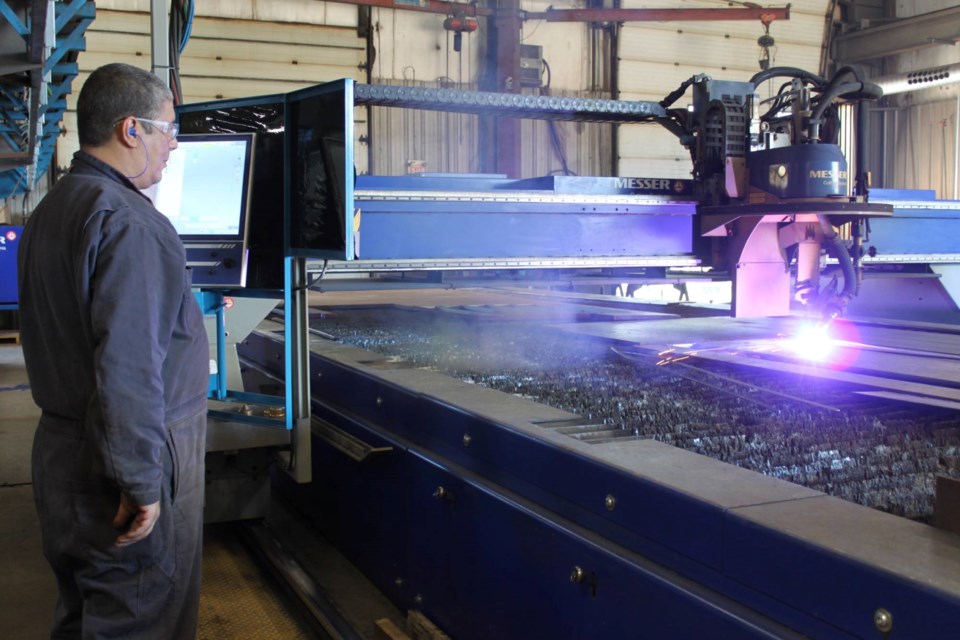 Business owners are often so busy just running their companies, they don't take the time to consider a broader recruitment plan that includes hiring foreign workers, Brouillette said.
But as demand soars, he believes it will be necessary in order to keep the economy humming.
"I want to start a conversation, because it works," he said. "You've just got to be committed to it."
Brouillette said he still continues efforts to attract Canadian workers to his shop.
He sits on program advisory boards at the local postsecondary schools — he was recently named vice-chair of the board at Laurentian University — and frequently appears in classrooms as a guest speaker to educate students about the benefits of careers in the trades.
Bursaries he's set up at Cambrian College and Collège Boréal are targetted at millwrights, welders, welder-fabricators, and mechanical engineering technicians, with successful applicants receiving a monetary sum and a placement opportunity at his shop.
Yet these efforts have still not been enough to fulfill his needs.
Part of the problem, he said, is that he's competing with unionized workplaces. Too often, as soon as a worker is trained and has gained some experience at City Welding, a competitor comes along and "poaches" that worker with offers of a higher wage.
Pre-COVID, the average wage for a welder was $24 per hour, Brouillette said, but according to the current National Occupational Classification, it's skyrocketed to $32 per hour.
He believes this cycle will have dire consequences for industry, going so far as to say it will "bankrupt" Canada.
"I don't play that game," he said. "It drives the cost of labour up, and it's going to really hurt the country.
"If we're not there already, we're going to price ourselves out of the market."
To illustrate his point further, Brouillette noted he recently posted country-wide for a welder supervisor and a metal fabricator. After two weeks online, the post garnered just one application, and the person who applied was seeking $45 per hour.
"I can't afford to pay a welder $30 an hour," he said. "It's not because I don't want to — I'd like to pay them $40 an hour. But I won't have any work."
Recruitment of foreign workers is not a perfect solution, noted Brouillette, who's a passionate and outspoken critic of Canada's existing immigration system.
In recent years, most notably since the onset of the COVID pandemic, government immigration processes have become more convoluted, requirements stricter, and it's more expensive to apply to bring foreign workers to Canada, he said.
Yet, demand is out there.
Brouillette said he used to field one or two inquiries a week from other business owners looking to talk about their labour woes, but in the last six months alone that's since increased to three to five inquiries a day.
With Y International now underway, he's hopeful more companies will consider bringing on foreign workers.
He believes it strengthens the local workforce, makes for a more diverse community, and ensures the continued success of small businesses like his.
"Let's sit down; let's have a conversation. It starts with that," Brouillette said.
"What are your challenges? What are you looking for? What do you need? How important is language? I have a solution for everything."