The trades are in dire need of workers and women see an opportunity to break into a once male-dominated sector.
Michelle Mulder from North Bay broke through the barriers in the early 2000s when she was enrolled in Canadore College's construction carpentry, renovation techniques program and found her niche. With less than 10 per cent of women in trades, Mulder was the only female in the program at the time. The right move that has led her into a successful career.
After graduating in 2005, she took her first summer job with Amy-Co Contracting where she learned how to pour concrete. She moved to Milton in southern Ontario when she landed a job with Mattamy Homes.
"We did framing houses from top to bottom in the factory," Mulder said. "I loved the framing and did that for a couple of years then moved on to roofing. I always wanted to learn to shingle roofs."
She met her husband, Sam Mulder, when they were working at Mattamy Homes together. They were both laid off after just a few years and decided to move to North Bay where the housing was more affordable and family was close by. After two years in North Bay, and once their last child was in school full time, they took the leap to starting their own roofing company. They called it Nailed It Roofing.
"We took part in The Business Centre's (North Bay) Start Up Business Program," she said. "We received $5,000 and business classes."
They used the money to purchase ladders, safety equipment, uniforms and marketing for the business.
They are celebrating eight years in business in 2023, with a stellar reputation. They have pre-booked jobs six months in advance.
"We are busy and we stay busy," Mulder shared. "Clients like our small team because they know who is showing up to do the work."
Sometimes clients will assume that Mulder manages the office tasks but they discover she is on the roof as well.
"Sometimes they don't realize I am actually shingling. It's new for people but I don't take it personally," she said.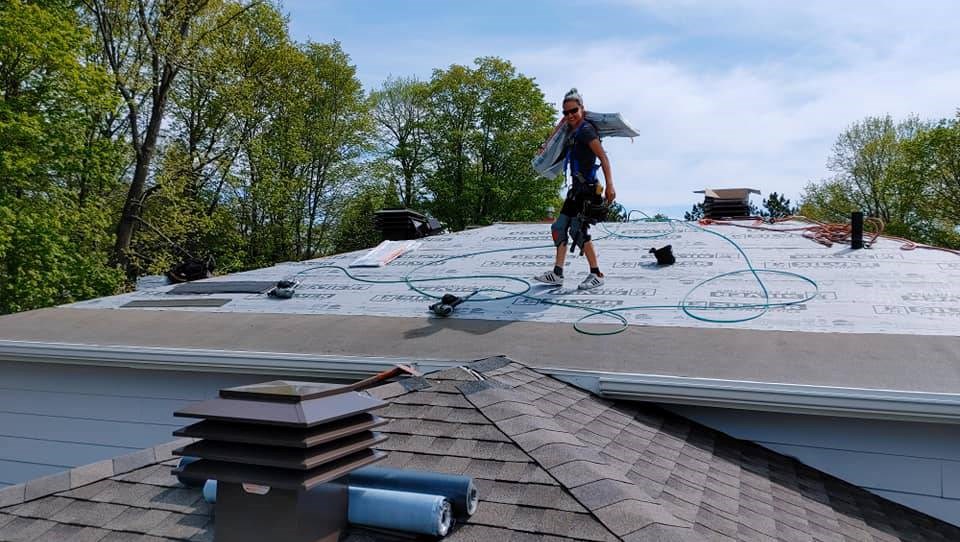 Michelle and Sam Mulder launched Nailed It Roofing eight years ago and have jobs booked jobs six months in advance. | Supplied photo
The early years of the business were a blur of activity with a new business and small children. Working with your spouse means having a few rules to ensure you keep the lines between work and family separate, she said.
She has a great deal of admiration for her business partner as a skilled roofer and said she learned a lot from him. Their three boys are now aged 11, 12 and 13 and old enough to help out in the shop.
Mulder and her husband work less in the winter, but that works just fine for Mulder since she is involved with ice cross competitions around the world. Ice cross, considered an extreme sport, is like downhill skiing on skates, but on an ice track.
"I found it on YouTube and wanted to try it," Mulder admitted. "People think I'm crazy, but it's no worse than hockey."
She gets sponsors to help support her travel to competitions that have taken place around the world in countries that include Finland, Italy, Russia and Japan. She currently ranks as the 14th in the world.
It seems the roofing trade has competitive elements as well. Mulder was recently recognized as the 2022 Female Roofing Professional of the Year by Beacon Building Products, a distributor of roofing materials and building products in the United States and Canada.
The competition attracted 800 contestants from across North America and Mulder was the only Canadian among the top five finalists.
Nominees are chosen by people in the roofing industry, who are asked to nominate someone they see as a leader.
As the winner, Mulder brought home US$10,000.
Watch the video below to see the Summit Sisters all-female roofing crew in action:
She is also part of the Summit Sisters, an all-female roofing crew from across Canada.
Samantha De Coteau, known as "RooferGirl" on social media, gathered together the few female roofers to shingle a roof in southern Ontario. They have shingled two roofs together and completed a documentary about this unique collection of tradespeople.
"We are all friends now and support each other," Mulder shared.
Mulder has embraced her trade and is an inspiration to other females who are considering a career in the trades.
"Many of us did not see that it was an option," she said. "But there is a shortage of labourers, and it's a great opportunity for women right now to get into the trades."