Northern Ontario-based innovator and telecommunications leader, Sunwire Inc., has recently completed the integration of its SolSwitch Business Phone System with the Microsoft Teams platform.
Originally developed into a deployable appliance in 2010, the SolSwitch phone system has continuously been updated to meet the needs of today's business world. Not only does the SolSwitch house all of a company's telecommunication needs in one appliance – it now integrates with Microsoft Teams' Calling functionality.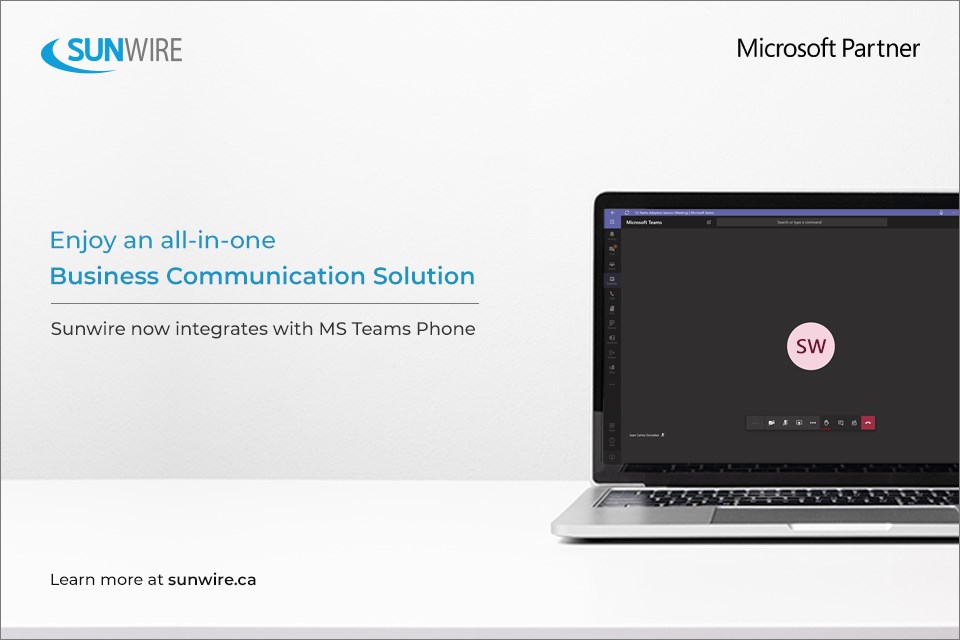 Microsoft Teams is a communications platform offered by Microsoft which helps enable organizations to easily collaborate and communicate in a variety of ways. It is the primary collaboration hub for employees in organizations around the world. With that said, the most common form of communication between businesses and their clients is still the traditional phone. Sunwire's integration bridges the gap.
"Organizations that use Microsoft Teams are often collaborative and dynamic. Connecting a reliable and robust voice service to Teams gives companies added flexibility as well as the ability to communicate with clients and colleagues from one application without having to bounce between interfaces." Explains Alex Levesque, VP of Sales for Sunwire. "Teams allows for chat, email, video meetings and file storage. Our integrated solution now allows you to incorporate your phone service with Teams while benefiting from the wide range of customizable features the SolSwitch has to offer."
There are several benefits of integrating Sunwire's phone services with MS Teams:
Streamlined communication and collaboration in one window;
Using your business phone number: make, take and transfer calls via MS Teams;
Flexible for remote team members and those working from home;
Receive calls across all mobile or desktop devices;
Use fully-customizable phone features; and
Cost savings.
Best of all, Sunwire will work with you to ensure setup is smooth and stress-free. "As an official Microsoft Partner, our team has the skillset and expertise to ensure organizations get the best possible service," adds Levesque. "Our solution is perfect for users who utilize Teams' collaborative functionality but are also looking for a cost-effective path to reliable voice-enabled integration."
To learn more, visit Sunwire online.
About Sunwire Inc.
Sunwire Inc. was founded as a software development firm in 2009, achieving early success by developing a state-of-the-art telecommunication platform – the SolSwitch. The SolSwitch has since gone on to process over 1 billion telephone calls for tens of thousands of homes and businesses across Canada. Due to the quick success of the SolSwitch platform, and to complement its telephone offerings, Sunwire added business Internet to its portfolio of services.
In 2016, Sunwire introduced high-speed Home Internet and Home Phone service to Greater Sudbury. Shortly thereafter, Sunwire expanded its footprint throughout other Northern Ontario communities followed by Southern Ontario regions. Today, Sunwire offers phone and Internet services to satisfied residential and business clients across Ontario and beyond.
To learn more about how Sunwire can help your organization or to sign up for business telecommunication services, visit www.sunwire.ca today!