When the temperature falls below 5°C (+40°F), key pieces of equipment can fail. If you happen to work with any equipment that contains compressed air lines, air tools, pneumatic valves, cylinders and hoists, some form of reliable protection is necessary.
Most outdoors workers experience tool freeze-ups, even when the temperature outside is over 5°C. Since in Canada we spend many months below this threshold, what's the secret to keeping tools and outdoor machinery functioning in severe arctic conditions?
The solution: pneumatic lubricants. Polar-Lube #3096 helps you achieve maximum performance all winter. It will unfreeze frozen tools and is compatible with polycarbonate bowls and sight glass. It is ideal for use in any outdoor or unheated spaces, in pipeline construction and the forestry industries.
It is yet another unique innovation by Alex Milne Associates Ltd. With this product, any bearings, compressed air lines and pneumatic valves in key pieces of equipment are able to perform well all winter long.
Compressed air expands when it passes through the air tool or valves to the exhaust. This has an immediate cooling effect; any moisture in the air from the compressor can begin to freeze. In the outdoors or in any unheated spaces, this can be a major problem.
An easy remedy is to add Polar-Lube to your airline lubricators. It can also be applied directly to the inlet to unfreeze the equipment. It works by absorbing the water in the compressed air and holding it in suspension until it leaves the equipment exhaust.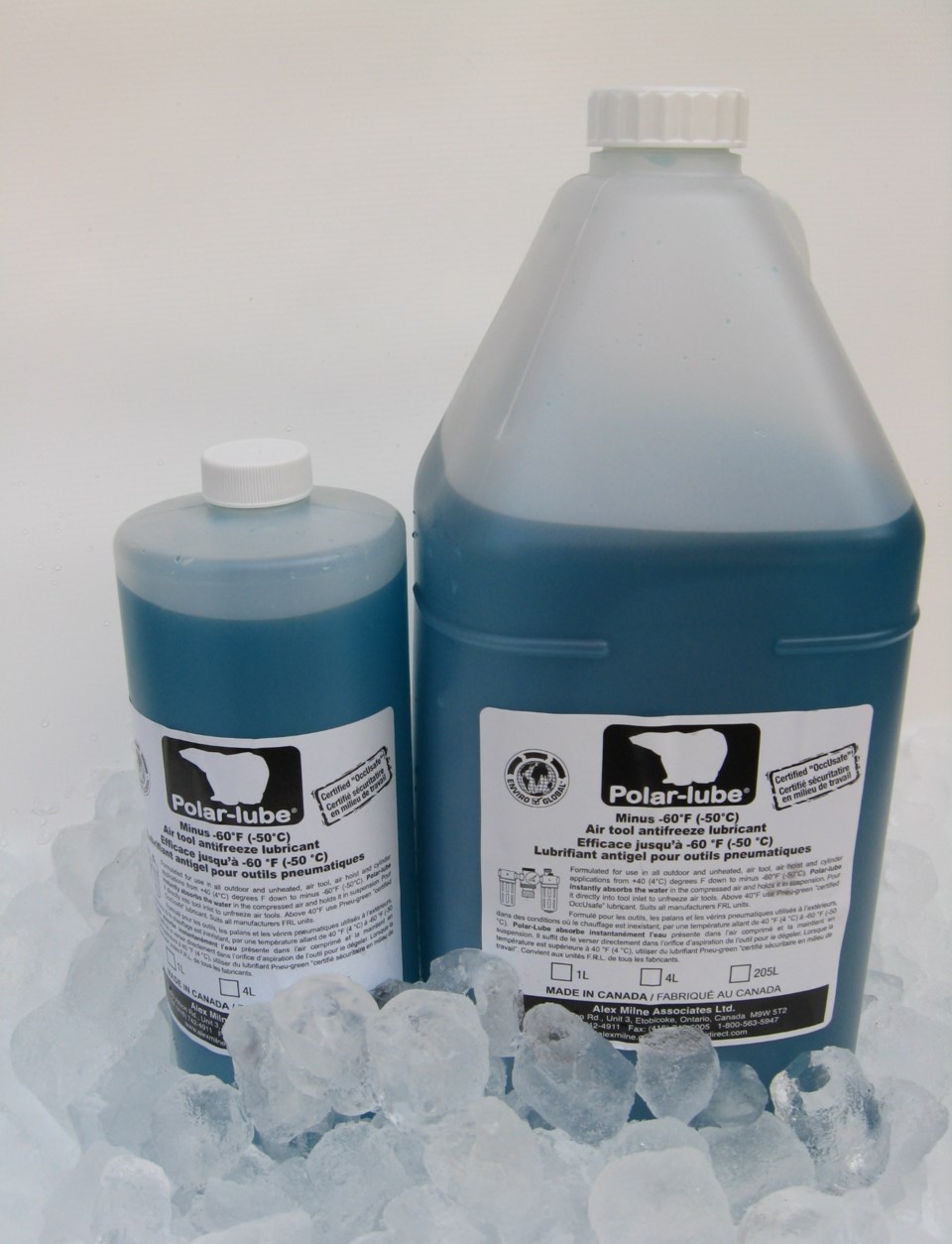 Because this product automatically absorbs the moisture, it allows outdoor tools, cylinders, valves and air hoists to be protected down to -50°C (-60°F). It can also help to unfreeze pneumatic equipment, such as air tools and air hoists, and it works in all manufacturer's FRL units. Proper airline treatment can increase the life of pneumatic equipment by up to seven times, a leading international air tool group found.
For a demonstration of how Polar-Lube works, simply put a small amount in a clear water glass. Take the glass to a tap and begin adding water. Polar-Lube instantly absorbs all the water.
Come spring, as the temperature rises close to 40°F, the automatic FRL oil units should be drained of Polar-Lube and replaced—with the virtually non-toxic Pneu-Green #3061, an ECO lubricant that was developed by Bill Milne for use in auto plants more than 50 years ago and is certified OccUSafe. The Virtually No Toxins (VNT) designation means it is excellent for worker health and the environment. Most industrial plants, government and military departments now require the use of OccUSafe lubricants.
Milne's company has created several successful natural, eco-friendly products for the Canadian marketplace over the years.
For convenience, Polar-Lube #3096 comes in a range of sizes—from 1L up to 205L drums. It is available for purchase nationwide through leading pneumatic and hydraulic distributors' groups. You can also contact Alex Milne Associates Ltd. or call 905-761-5945.