On November 8, 2022, Ontario's Minister of Labour, Immigration, Training and Skills Development, Monte McNaughton, visited Local 1669 of the Carpenters' Union in Thunder Bay at their training centre to announce that Ontario is investing $1.5 million in three Thunder Bay training projects to make it easier for Northern Ontarians to start rewarding careers in the skilled trades.
"Careers in the skilled trades offer the opportunity to work anywhere, and the good pay to buy a home and raise a family," said Minister McNaughton. "Our government is proud to bring these purpose-driven careers within reach for more Indigenous communities in the North, and for more young people across our province," he continued.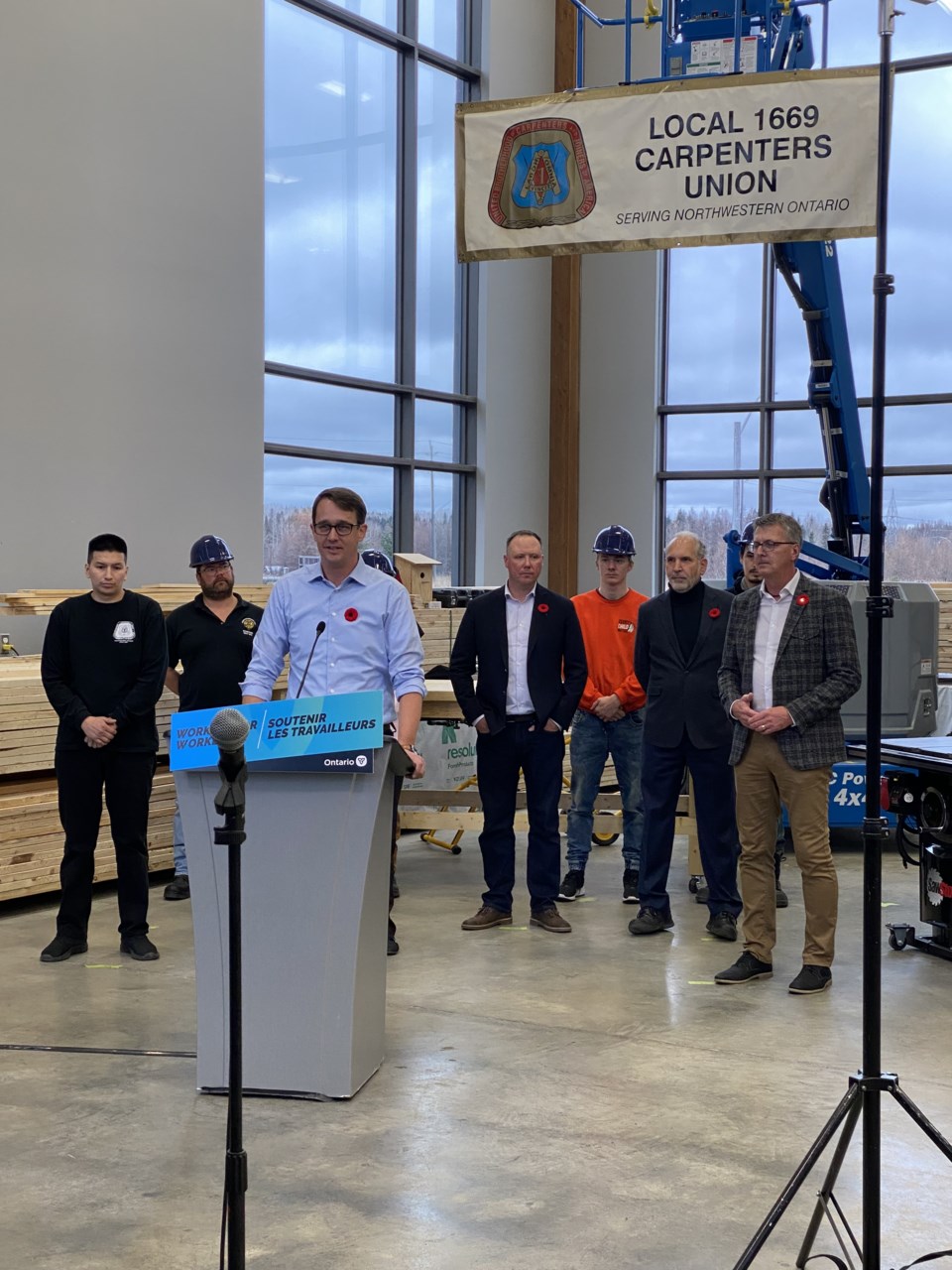 Two of these training projects are pre-apprenticeship programs, helping participants learn the basics of the carpentry, welding, and electrical trades.
They are run by Anishinabek Employment and Training Services (AETS), in partnership with Carpenters' Union Local 1669 and Confederation College. Following this training, those enrolled in the program will receive a 12-week paid work placement to gain hands-on experience in the trade.
The program will have 72 participants from the Robinson-Superior Treaty Territory First Nation communities.
As noted by John DeGiacomo, Executive Director of AETS, "this initiative will provide First Nation citizens the stepping stones required to build skills and gain the knowledge needed to realize their career goals in the trades. It's important that AETS continues to provide training programs which meet the needs of First Nation communities".
With programs such as this and others, Carpenters' Union Local 1669 and its partners are providing the training to give Indigenous Canadians the opportunity to move forward in the skilled trades.
All participants in this program that want to continue their experience in the trades can apply to join Local 1669's general carpentry apprenticeship program.
This is a 4-year course with about 10% spent in the classroom and the other 90% spent on the jobsite working. This is a paid program, with apprentices making $21.20/hour on their first day on the job and their hourly wage increasing as they work more hours, alongside receiving health benefits and pension contributions.
Once a member has finished their apprenticeship and received their Certificate of Qualification, they will officially be a certified journeyperson carpenter and will be earning the full journeyperson rate of $42.40/hour. Local 1669 is always looking for new applicants that want to learn new skills and build their local communities.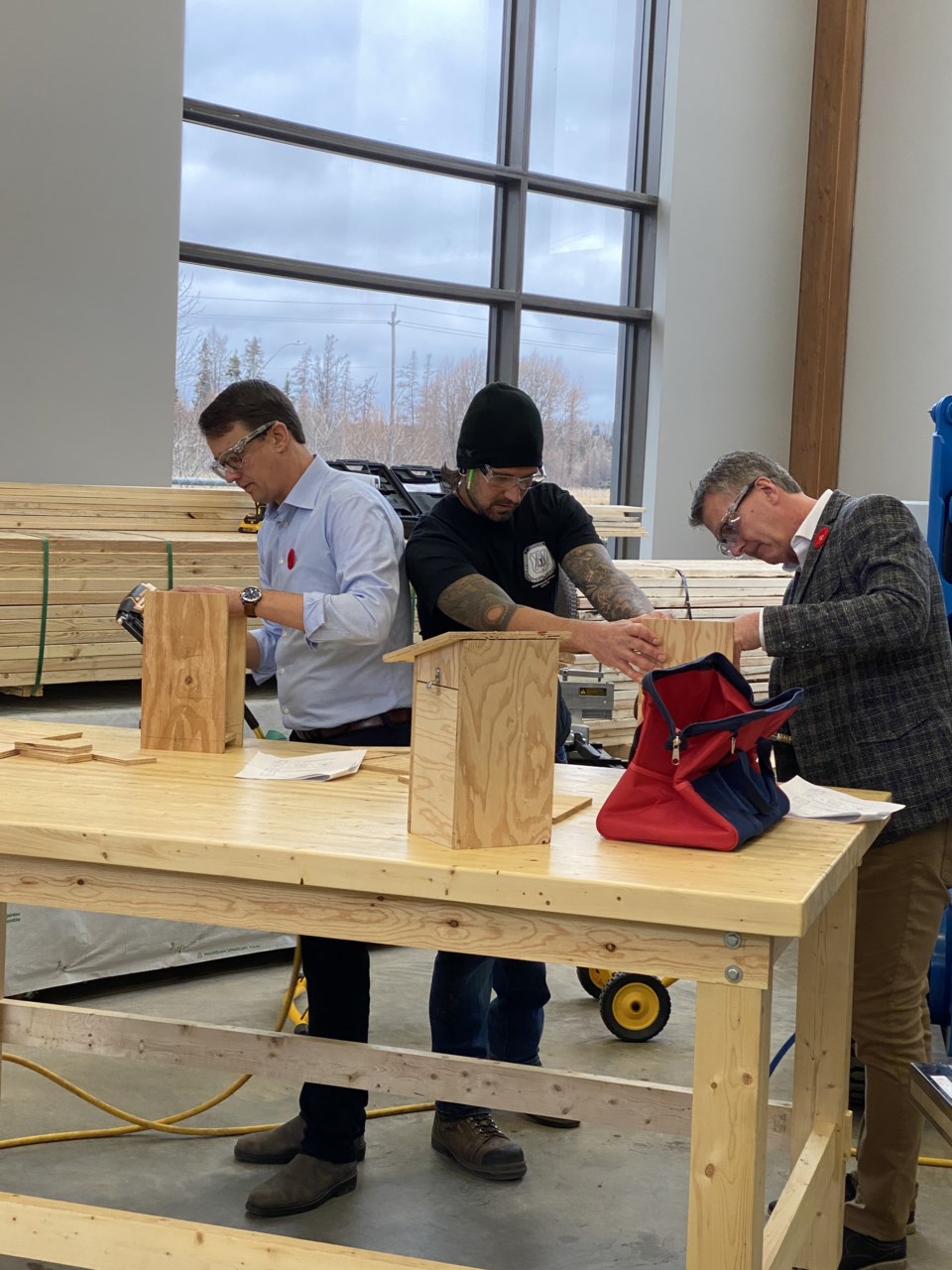 "The Carpenters' Union is proud to be a part of providing high level training to our Northern Ontario partners through our training centre. Delivering programs such as pre-apprenticeship training gives individuals an opportunity to gain skills as well as receive any mandatory occupational health and safety training, prior to beginning a career in the construction industry," said Evan Reid, President of Carpenters' Local 1669 Training Centre and Local Union coordinator.
He added, "I will be looking forward to continuing to offer the opportunity for training while helping persons, companies, and communities in Northern Ontario build capacity for the future." With one in five job openings in Ontario by 2025 being projected to be in the skilled trades, there has never been a better time to get into the industry.
Learn more about this investment by the Government of Ontario here.
Learn more about starting a career in the trades in Northern Ontario here.
Learn more about employment opportunities for First Nation citizens in the North Superior Region (Robinson-Superior Treaty) here.