The vibrant central Saskatchewan Cree community of Mistawasis Nêhiyawak located about 70 kilometres west of Prince Albert has embarked on an experimental aquaponics project hoping to generate new ideas and demonstrate the possibilities of this technology. Inside a greenhouse facility, community members will learn to raise fish from egg to market weight and grow multiple amounts of leafy greens.
The demonstration-scale facility measures 300 square feet with the aquaculture and the hydroponic sections each occupying about half the space. It was built and installed in late 2022 and is now in the beginning stages of becoming operational. Two other First Nations in the vicinity, Muskeg Lake Cree Nation and Muskoday First Nation are also putting up similar facilities with the purpose of carefully examining the feasibility of aquaponics for their communities.
Mistawasis Nêhiyawak's Indigenous Food Sovereignty Specialist Dr. Jeff Baker explains his community's objective: "While building a much larger facility for economic development purposes remains a possibility for the long-term, we decided to establish a small-scale aquaponics facility to improve our community's supply of fresh produce and fish. At this time, food sovereignty is our goal and our new aquaponics facility will contribute significantly in reaching that goal. Our step-by-step approach could lead to bigger and better things in the future."
The community decided to raise rainbow trout in the aquaculture section. This year will be mostly dedicated to learning the process through training and education. Jeri Sanderson is the community's Aquaponics Facility Coordinator. Here is what she had to say about the beginning stages: "We are not in a hurry. We will take the time required to learn how to operate and gain maximum benefits from our new demonstration-scale facility. This year we will experiment with rainbow trout and various leafy greens. We want to engage our young people in this project. Get them interested and involved. This new facility provides a unique learning environment which is ideal for hands-on training and education."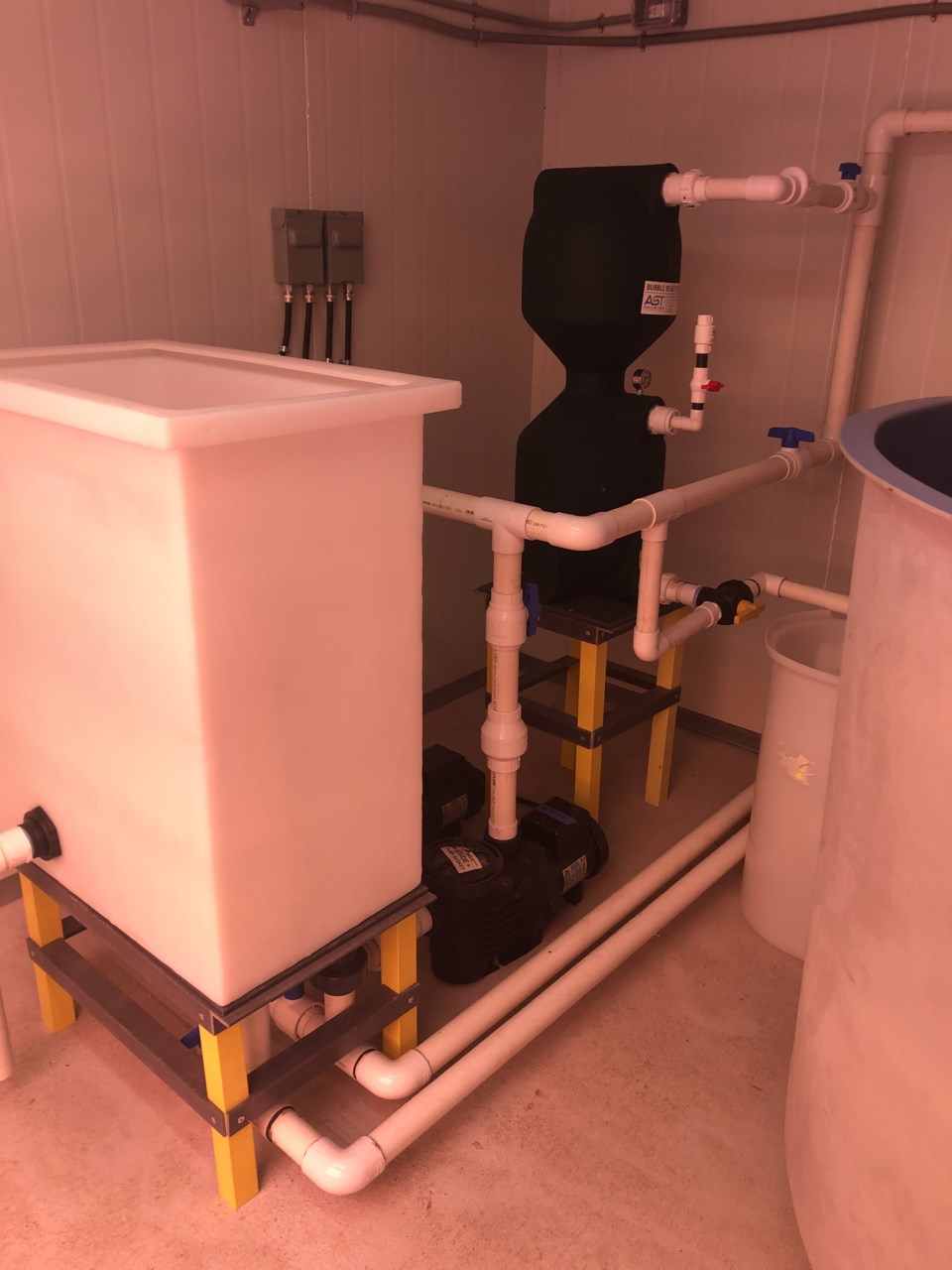 Once operational, several positive impacts will result. Food security will be enhanced. Better nutrition for community members from local, year-round production of fresh fish and leafy greens. It will be an established resource where young students and other community members have access to hands-on training in aquaculture and hydroponic gardening. But Dr. Baker believes that the most positive impact is community-wide: "Our young people, elders and community members in need will benefit from greater health and wellness. Having year-round access to fresh, healthy food will make a significant difference for the people of our community. That's number one for us right now."
The Band-owned, decoupled aquaponics facility located on community land uses a RAS (recirculating aquaculture system) to continually recirculate the water used on both the aquaculture side and the hydroponics side. Physical and biological filters will constantly clean the water. New water lines were installed to bring water to both separate systems from an existing water source. Fish manure will be added to some system water in the hydroponics section to help provide nutrition to the growing vegetables. Once fully-trained, community members will carefully monitor the water to ensure maximum water quality. Constant system monitoring is crucial to maintaining healthy fish.
Rainbow trout take approximately 14 months to develop from egg to the targeted weight of 1.5 kilograms. Once fully operational, the community will be able to raise up to 400 kilograms of rainbow trout per year. Dr. Baker believes that the steady supply of local, fresh fish will benefit community members: "Access to a fresh, high quality source protein will bring great health benefits now and in the long run. And that is a game-changer for our community."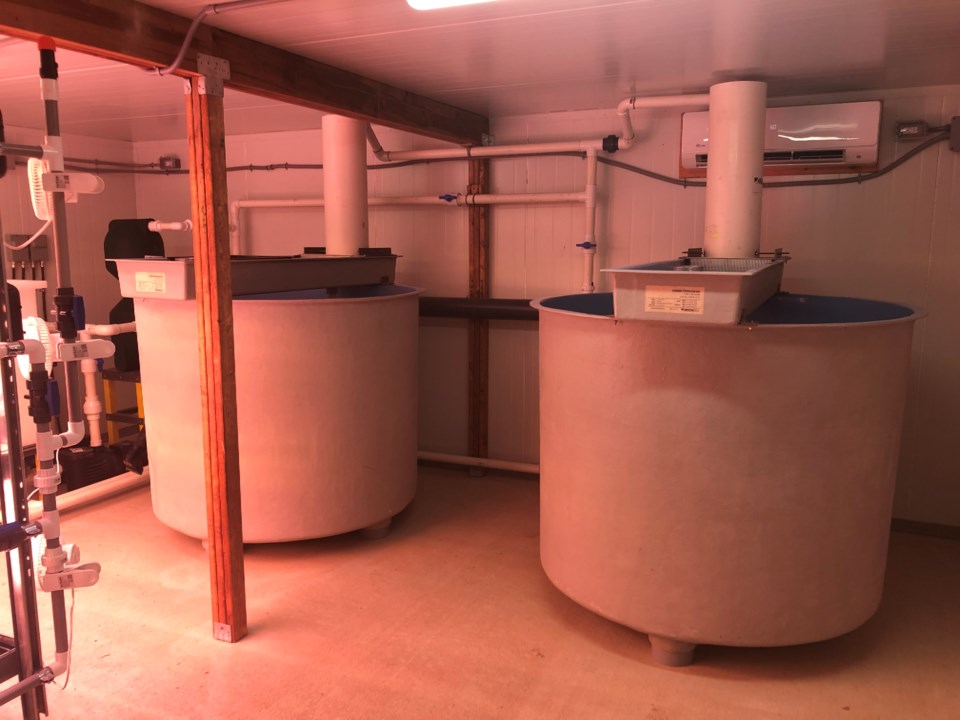 On the hydroponics side, the community will begin this year by growing a variety of leafy greens including fresh lettuce, kale, cilantro, spinach, chard, arugula, parsley, bok choy and basil. "Once again, health and wellness were primary considerations for us," added Ms. Sanderson. "Food sovereignty will always be one of our primary goals but with a close eye on health," she concluded.
Although the current goals are focussed on health and wellness, the community has not left out the possibility of future expansion for economic development purposes. There is a market in the region for fresh fish and produce. But what is important now is to learn what aquaponics is all about on a smaller scale and provide good, healthy food for community members.
Mistawasis Nêhiyawak has adopted a step-by-step approach in the development of aquaponics. They are relying on the professionalism of Waubetek Business Development Corporation to accompany them during these crucial first steps. And they are thankful to the Northern Integrated Commercial Fisheries Initiative (NICFI) program at the Department of Fisheries and Oceans Canada for their support. However, it is the long-term vision and the hard work of community leaders that made this project come together. And it won't be long before community members begin to enjoy the benefits of greater food security, good health and wellness while looking forward to opportunities for the generations to come.
Learn more about Waubetek Business Development Corporation and the projects they support here.