JVC Precision Ltd. has strong roots in custom metal fabrication, initially providing bespoke one-off fabricated parts to local manufacturers in low volumes. As the business grew, it evolved to also offer competitive solutions for 'medium volume' production of fabricated parts and assemblies. "Medium volume to us typically means production runs of 50 pcs up to low thousands," explains Carl Robb, Sales Manager at JVC.
JVC Precision's rapid growth over the past four years can be attributed to working with their customers during the design phase to make sure products are designed to be manufactured and assembled in the most efficient way. Starting with a good design is only part of the challenge since the business processes and capital investment planning needs to play a supporting role in keeping costs down.
"Volume manufacturing requires strict process controls since our customers are relying on us to put their name on the parts that come out of our facility," says Robb.
"…our customers are relying on us to put their name on the parts that come out of our facility."
JVC Precision has undergone a significant transformation over the past four years with the implementation of a custom ERP software package allowing them to manage quoting, inventory, purchase orders, quality and scheduling from one integrated tool. The shop floor has been outfitted with barcode scanning at each workstation which tracks the movement of product through the shop in real time giving operators direct access to work orders and drawings.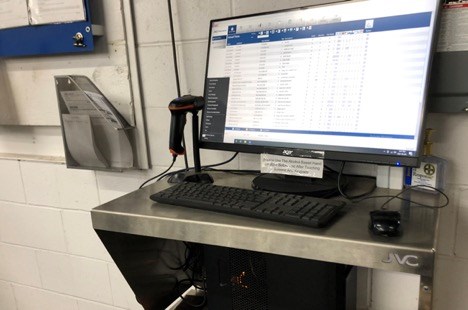 "Without the ERP software in place, we would not have been able to meet the demanding requirements of our customers in terms of quality and delivery for volume production, it was a critical component needed to grow the business," says Robb.
Alongside the investments made in the front end of the business, the shop was also being transformed through implementation of a 5S process and through investment in new equipment.
Buying the equipment is just the first step. To maximize the efficiency, JVC Precision looks at the layout and flow of material through the plant, maximizing the potential of the machine through programming and ensuring their operators are well trained in the operation and safety of the machine.
"It's not very common to have one project be able to justify the purchase of a new piece of capital equipment," says Mike van Campen, President and Owner of JVC Precision. This has been the case for JVC Precision as they have continued to grow and evolve over the past 15 years. "When I bought the Mitsubishi CNC Laser I didn't have enough work to fill the machine, but I knew that the work would come."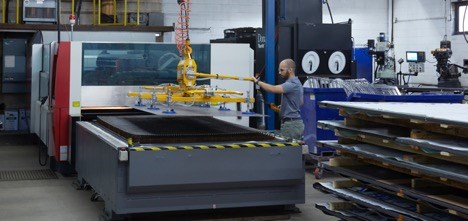 While there is risk in procuring any new piece of capital equipment, the decisions have been based on the needs of JVC Precision's customers.
"One of my responsibilities as the Sales Manager is to understand what work we are not competitive on, if we are losing jobs with key customers because we don't have a certain piece of equipment, we are going to look very hard at bringing that in-house," says Robb.
The latest acquisition by JVC Precision is a robotic welding station. Much like the CNC laser, not any one job alone could justify the cost of the robotic welder, however, van Campen explains that "welding is inherently labour intensive and requires highly specialized skills, I didn't want to see my best welders doing highly repetitive work when their skills could be better used on more complex builds."
"I didn't want to see my best welders doing highly repetitive work when their skills could be better used on more complex builds."

In fact, JVC Precision won't be laying off any welders due to this new acquisition, the opposite is true as they are currently looking for experienced welders to join our team as the need for those skills continues to grow.
With the CNC Laser in place and operating two shifts per day and with robotic welding being implemented, JVC Precision is continuing to evolve into a niche market space of being a highly experienced fabrication shop that can also offer customers competitive solutions for medium to high volume manufacturing.
"The dream for JVC Precision is to get to a point where we can do true lights out manufacturing," says van Campen. "For higher-volume fabrication work, this limits your costs to setups, material and consumables giving our customers the most competitive pricing without sacrificing quality, all while limiting their outlay of capital tooling."
JVC Precision believes in building long lasting partnerships with their customers and they do not want to be a purely transactional business. By continuing to collaborate with their customers, making the right investments in people, equipment and processes, JVC Precision believes the can truly help their customers achieve their goals and keep manufacturing products right here in Ontario.

To learn more about JVC Precision, please contact Carl Robb at 705-984-9444 or carl.robb@jvcprecision.com.