Keefer Terminal, located in the Port of Thunder Bay, is an ideal hub for shipping and storing large infrastructure pieces for a variety of projects (project cargo); benefits include cost-efficiency, transit time and reliability.
Keefer Terminal was built in the 1960's and has had extensive upgrading during the past two decades. The 80-acre facility handles general and project cargo like bridge components and pre-manufactured buildings shipped from overseas, said Chris Heikkinen, director of business development and communications, Port of Thunder Bay.
The Port's stevedoring partner Logistec handles a wide variety of oversized cargo at Keefer, including wind turbine components, steel products such as pipe, steel rail and structural steel, and infrastructure pieces for the oil sand. Most of these commodities transit on ocean-going vessels from overseas through the Seaway System, and are discharged at Keefer Terminal, in the furthest inland port in Canada.
Because of the port's close proximity to Western Canada, Heikkinen explained that shipping by marine to Thunder Bay minimizes land transportation that can be cumbersome and expensive for heavy or large cargo.
"The benefit is you get your big, bulky cargo as far inland as possible on a ship, so you have less logistical work trying to get your cargo to your final destination on either rail or truck, which can tack on additional costs," he said.
"These cargoes alternatively put a lot of pressure on the road or rail, and require a lot more rail cars or truck beds to carry these cargoes than just a single ship, so you're alleviating congestion on the land transportation network. It's also safer for those on the road," he said. "Some of these cargoes are so big that when you put them on the road they need an escort team, so minimizing the disruptions they cause on roadways is beneficial."
Most times, large infrastructure projects are completed in stages, and because the Port has invested in significant laydown area at Keefer, product can be stored and delivered as needed so recipients don't need to take all of their product at once, which is another advantage, Heikkinen said.
The Port of Thunder Bay and Keefer Terminal are a cost-efficient route when shipping project and general cargo to a Canadian destination. Heikkinen explains that additional costs at alternative U.S. ports add up, "Shipping through the United States adds an additional customs clearance. In the United States there is also a Harbour Maintenance Tax on port cargoes, which doesn't exist in Canada," he said.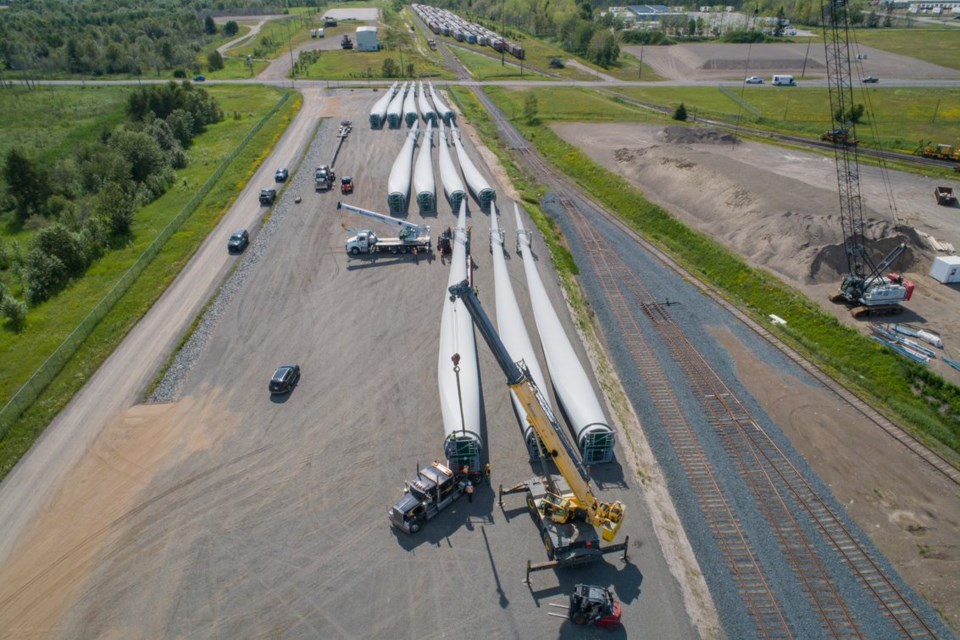 Keefer terminal also handles product that supports agriculture and Northern Ontario projects
While Keefer mainly handles cargoes that support big infrastructure projects in Western Canada, it also handles products that benefit agriculture.
A recent addition to Keefer's business is import Moroccan phosphate fertilizer. Fertilizer is discharged into Keefer's indoor storage space – which spans some 550,000 square feet – and then shipped to Prairie farms for crop production. This crop input directly impacts the port's largest sector: bulk exports of Prairie-grown wheat, canola and other grains that are shipped overseas. Thunder Bay grain elevators handle 8-9 million tonnes of Western Canadian grain annually, providing a backhaul cargo for ships carrying project shipments to Keefer.
Keefer also recently handled some mining equipment for the construction of a gold mine being built in Greenstone. Heikkinen said when there are cargoes that need to be brought in for mining and other sectors in Northern Ontario, the Port facilitates those movements as well.
Last year, Keefer Terminal handled record volumes of project and general cargo, and the Port expects to surpass that success this year, with a particular focus on increased steel product shipments.
To learn more about Keefer Terminal in the Port of Thunder Bay, call 807-345-6400 or contact them today!