Agricultural businesses from large-scale farming operations to single location greenhouses face many challenges. One of the biggest is failing to modernize by incorporating helpful technologies that can lead to efficiencies, higher productivity and cost savings. One of the simplest ways to help agricultural businesses take a giant leap forward is fuelling growth by going digital and incorporating helpful online tools available through companies like McDougall Energy.
"Small changes can have a big impact on agricultural business," said Shane Burke, Territory Manager, McDougall Energy Inc. "By offering the right tools and products that can be easily managed online, McDougall Energy helps support agricultural businesses year-round."
According to Burke high-quality fuel and lubricants are two essentials that are vital to keeping agricultural businesses running smoothly and equipment operating at maximum efficiency. To help businesses with their fuel and equipment needs, McDougall Energy offers a variety of different services exclusively designed to help bring agricultural businesses into the digital age. These include things like online fuel and lubricant ordering, online invoicing, geo-tracked deliveries featuring real-time comprehensive delivery information, and various fleet-management capabilities.
All of these tools are available through McDougall Energy's myAccount customer portal, which is a powerful and secure business tool that helps agricultural operations understand and optimize spending on fuels, lubricants, and specialty fluids. It's an exceptionally comprehensive digital platform that Burke said can be quickly and easily incorporated into the operation of any type of agricultural business to deliver great results.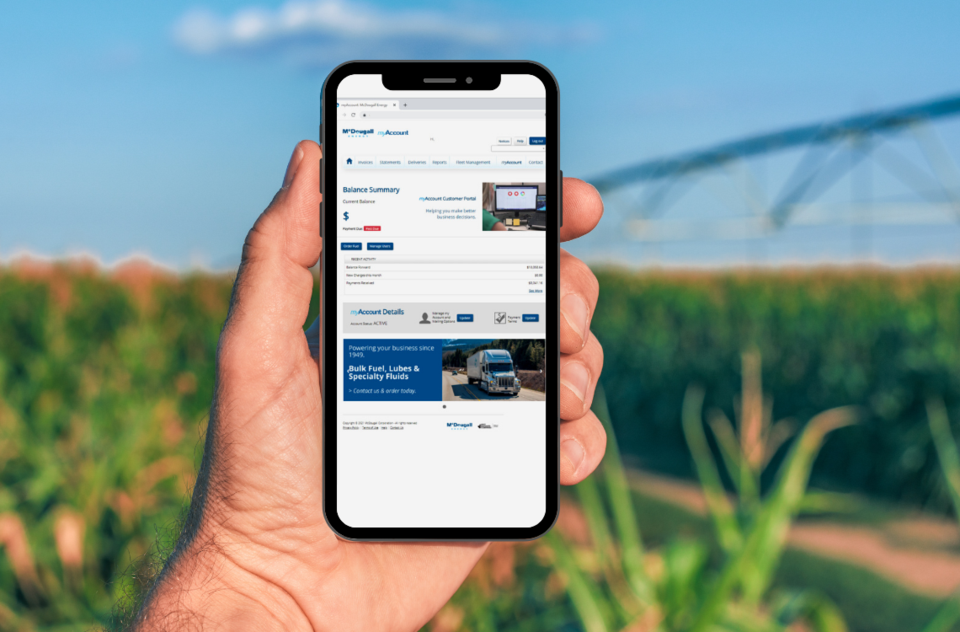 "By capturing every detail about your product usage and making this data easy to access and analyze, myAccount helps businesses spot trends, identify improvement opportunities and ultimately improve profitability. Best of all, it's available to customers 24/7, so it can be accessed any time to make it easier to use for agricultural business owners with busy schedules."
Through a network of locally-based Territory Managers, McDougall Energy serves multiple agricultural businesses across Ontario, including the Greater Toronto Area, the Owen Sound region, the Niagara Peninsula, the greater Kingston area, and multiple locations in Northern Ontario. This includes supplying top-quality Esso™ and Shell® branded fuels, bulk and packaged Mobil™ branded lubricants, as well as propane and specialty fluids. McDougall can also assist with all the details of converting your primary source of power to propane.
"Agricultural businesses are vital to ensuring a healthy supply chain in Canada, and McDougall Energy provides everything required to keep equipment operating around the clock. We can help advance any agricultural business with service, technology, quality products and our reliable team."
For more information on how McDougall energy can help incorporate digital into your agricultural operation, visit McDougall Energy online at https://www.mcdougallenergy.com.