Canadian-listed critical metals company, Clean Air Metals Inc. ("Clean Air Metals" or "the Company") (AIR: TSXV) continues to make significant progress with its Thunder Bay North Critical Metals Project, following a new mineral resource estimate completed on May 4, 2023 by SLR Consulting Ltd. The estimate revealed 14.0 million tonnes, containing 1.2 million ounces of 2PGE (Platinum + Palladium), 57,500 tonnes Copper, and 34,300 tonnes Nickel.
"Clean Air Metals is proud to be leading the development of a critical metals deposit in Northwestern Ontario," said Abraham Drost, CEO. "This latest estimate shows the great opportunity that remains for this project. The region is already home to Canada's only pure palladium mine, so it comes as no surprise that our newest resource estimate, conducted by the highly-respected SLR Consulting, shows this project has a shot at adding on to the great mining story to be told about this region."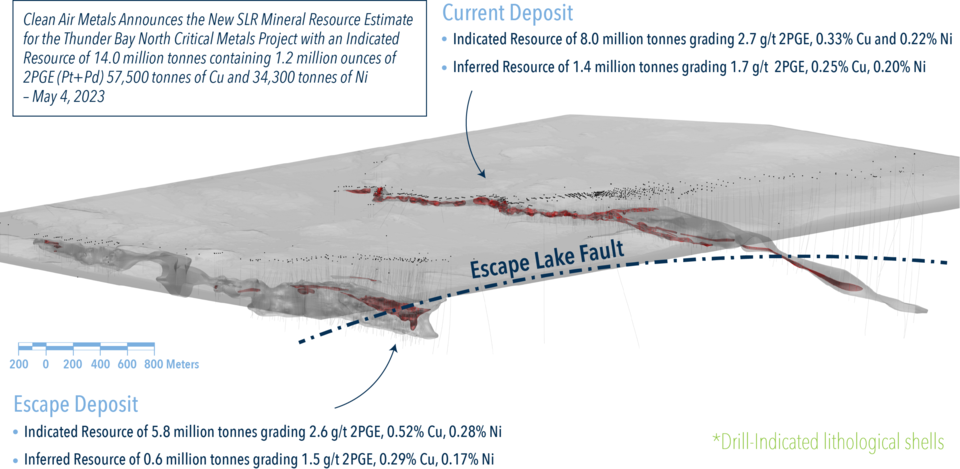 For the Company's two underground deposits, the predominant revenue driver could ultimately be platinum, palladium and copper. The mineralization at the Thunder Bay North project is also unique due to substantial nickel by-product in the mix.
"Clean Air Metals is working diligently to meet the growing demand for platinum, palladium, copper, and nickel, as the production of battery electric vehicles and green-hydrogen hybrid vehicles ramps up in Ontario and beyond," added Drost. "Combatting climate change is top-of-mind for governments and corporations across North America, which should continue to drive the prices of critical metals exponentially."
In 2020, Clean Air Metals was formed around the consolidation of the Escape and Current deposit platinum-palladium-copper-nickel assets, located northeast of Thunder Bay in the Escape Lake Road area. To date, the Company has invested over $30 million to assess the development of an environmentally sustainable mining operation on this site. The Company has also partnered with three First Nation communities – the Fort William First Nation, the Red Rock Indian Band and the Biinjitiwaabik Zaaging Anishinaabek – to further study and potentially develop the Thunder Bay North Critical Metals Project.
Located in the Black Spruce Forest Management Unit, these mineral deposits are about 2km apart and lie under extensively harvested, clearcut areas. Although impacted by forestry operations, an ongoing comprehensive environmental baseline database collection continues to support permitting and potential construction. The Company is now engaged in an internal scoping study to compare the updated mineral resource estimate with the estimated costs of constructing and operating two underground mines at the Current and Escape Deposits.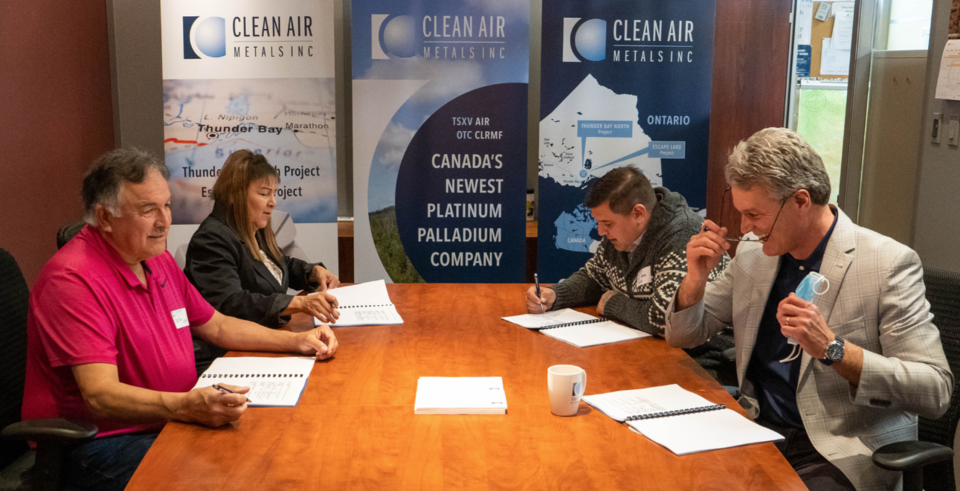 "We are committed to following robust environmental standards and limiting our carbon footprint as much as possible as our work is underway," concluded Drost. "The Thunder Bay North Project could be a game changer for Indigenous communities and Northwestern Ontario, and we look forward to sharing more news in the coming months."
In December 2022, the project received $15 million in financing from Triple Flag Precious Metals Corp (TFPM: TSX), fulfilling the funding needs for all project activities in 2023.
Learn more about Clean Air Metals online here.