Eight years ago, the lawyers and staff at Wishart Law Firm (Wishart Law) in Sault Ste. Marie threw Jeannie Bright a big retirement party.
Before handing in her keys, she had one more file to complete. "I never did leave," laughed Jeannie. "I kept coming in because of this one deal that didn't close. They were giving me other files to work on. So, I never did leave, but I've been retired for 8 years."
Jeannie started at Wishart Law in 1965. After working for a few years at a law firm in Philadelphia, she returned to the Sault and accepted a job at Wishart as a runner and switchboard operator, eventually settling in as a legal assistant. "When I started, no one specialized, you did everything. I worked on every kind of legal issue. From wills, estates to real estate. These days everyone specializes."
Established 1900, Wishart Law has deep roots in Sault Ste. Marie. Its original office at the intersection of Brock and Queen Street was opened by Moses and Uriah McFadden who were both appointed to the bench as judges. The firm established its namesake when New Brunswick-born lawyer Arthur Wishart left his firm in Blind River in 1930 to join Partners Ernest and Gordon McMillan to create Wishart and McMillan.
When Jeannie began working at Wishart, office tools were primitive by today's standards and the interactions with clients carried a different tone.
"When I started, the lawyers wore suits every day," recalled Jeannie. "People were referred to by the titles Mr. and Mrs. Everything was much more formal."
Lawyers used dictaphones, while legal assistants used shorthand. Cutting and pasting literally meant cutting a paper document and putting it back together with scotch tape. "And I got good at it. I could cut and paste anything and photocopy it and nobody would ever know."
Jeannie was thrilled when the fax machine came into the office in the 80s. "We thought fax machines were the be-all and end-all. When it first came out the fax machine was unbelievable."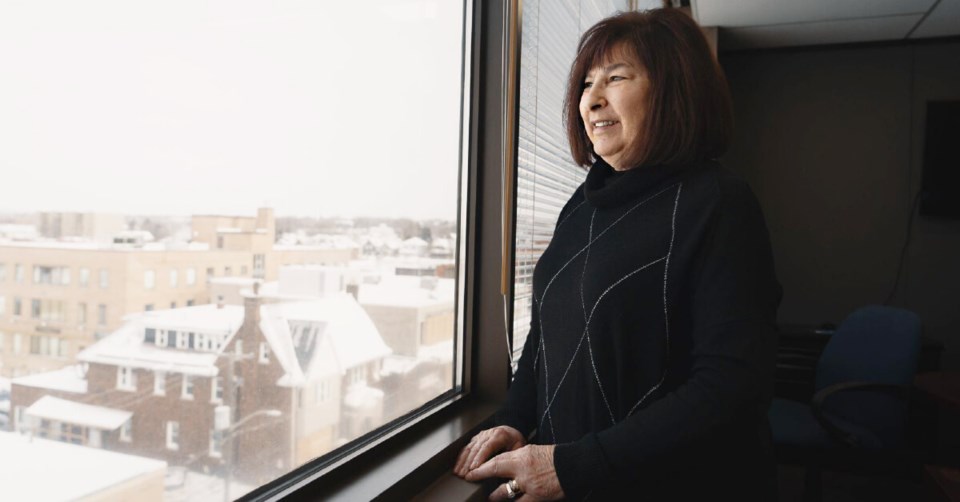 As the technology expanded, so did the legal services offered by Wishart Law. Jeannie witnessed the firm grow from modest beginnings into Northern Ontario's premier law firm, offering services in labour law, corporate finance transactions, municipal law, wills and estates, commercial and residential real estate and litigation practice areas.
Paralleling this growth was the expansion of Wishart's service area.
"In the early days legal work was confined to Sault Ste. Marie and Algoma District," explained Jeannie. "Going outside of the area required a courier or hiring a middleman in another community to complete the file.
The introduction of the computer changed everything.
"That opened up the door to do a deal for somebody buying a house in Toronto, for example, by simply pressing send. It expanded our client base immensely"
Now the Sault-based law firm provides legal solutions to clients all across Ontario.
Today, transactions and resolutions are completed with ease. Even the office environment is more relaxed and personable. "We got rid of the misters and the ties and suits," said Jeannie.
Jeannie considers her co-workers, many who have been at Wishart for over 30 years, her family. She can't say enough about her bosses Gord Acton and Orlando Rosa as well as the new two partners who joined in 2021, Paul Cassan and Steven Shoemaker. She feels fortunate working for a firm that treats their staff so well.
During her 56 years at Wishart Law, Jeannie has experienced a lifetime of personal joys and heartaches. Across this time she has become a wife, a mother, a grandmother.
At 75 years old, Jeannie has no plans to retire. The job is challenging, and she loves the people she works with. "I love my job. I'm lucky that way. Getting up in the morning is difficult, but once I'm at work, I'm truly happy."