At the end of each workday, the office rituals are log off and lock up. A computer left open overnight may cause anxiety and questioning oneself. Did I sign out? Did I lock the door?
Today's workforce requires security standards that may cause anxiety triggers due to numerous passwords, multi-factor authentications, and the almighty office keys to start and end your day. The increase of security threats, data loss, and production delays should spark a more important question: Is my business technology secure?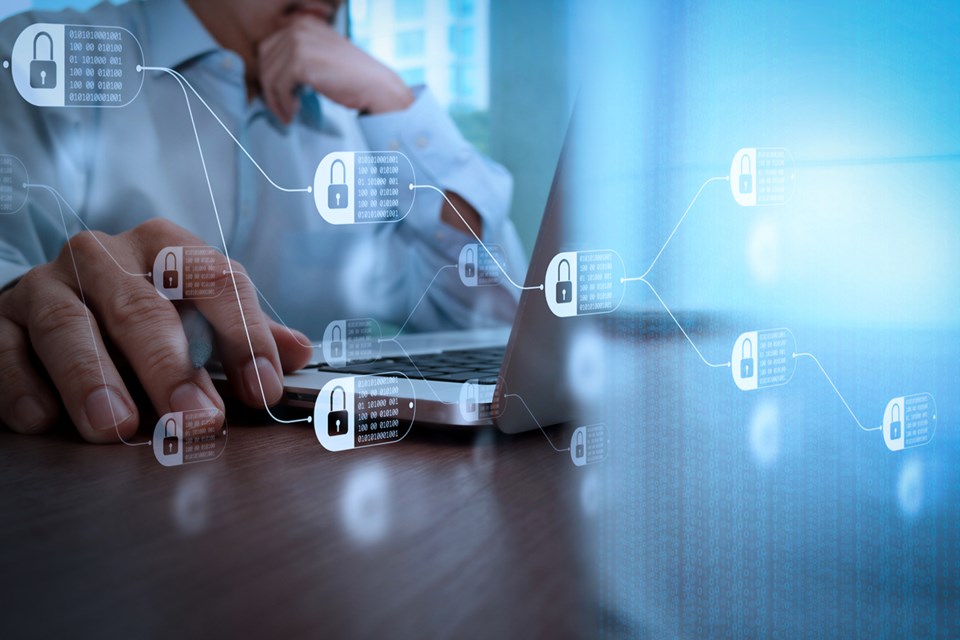 Many small and medium businesses believe cyber-attacks only target large corporations, governments, and in most recent cases, the health care sector. Hackers strategically go after the big fish; however, a cyber-hack domino effect can spread into the vast ocean of connectivity. Your business is part of this connection. No business can survive without some form of technology. The challenge to accept the need for cybersecurity most often includes technical knowledge, budget, and trust.
Fund allocation to protect business productivity seems arbitrary,
Client data is not a target, or
The value of a business process is not of any interest to others
A data breach does not matter until it matters. Cybersecurity is essential and is a primary utility for business prosperity.
The evolution of technology is infinite. Hardware, software, and application updates revolve around you and your business. Cybersecurity awareness can help protect your productivity and ease anxiety. A proactive approach to your business technology will help protect your productivity and keep your business moving forward either at home, in the office or on the go. A trusted IT Consultant is your first step to help your business thrive.
Unprecedented time for business and technology
With the recent work-from-home movement, the gaps and risks of a cybersecurity breach increased significantly. As the pandemic unfolded, the rush for at-home productivity began to rise, and security was essential. The operation to protect users in a time of uncertainty was a great challenge. Our team at Computrek was steadfast in providing a solution; safeguard our community of users and partners even at home. Our proudest achievement to date. And not because it is the purpose of our business, but we as a team, as a collective people, covered the expense to protect our community.
Service excellence is our business
Commitment to service excellence is at the core of our business and our guarantee. Our technical support team will provide knowledge, training and guide your team with any technical challenge. Computrek can discover, deliver, and support business solutions to improve and protect your productivity. Our expert consultants in communication services and technical infrastructure can reduce downtime and help your business thrive.
A history of innovation in Northern Ontario
Computrek has come a long way since its ambitious and humble beginning of selling and servicing computers nearly forty years ago. Today, Computrek is an industry-leading Managed Service Provider servicing Northern Ontario. Our best-in-class security software and monitoring tools combined with a Northern Ontario first per-user cybersecurity community are among the many innovative solutions procured by outstanding leadership and skilled technicians. As a trusted advisor with Information Technology experience, various partnerships, and an impeccable reputation, Computrek can be your new IT Partner.
Big leap in technology
Our biggest release for Computrek Technical Support is now available for our community of users. The Computrek ProActive Portal is the latest technology leap to streamline support right from any desktop. The ProActive Portal will bridge the gap in communication, service and provide Unlimited Remote Support 24/7 365. Need training for your team? The Knowledge Base and Education portion of the ProActive Portal can provide insight into the technology you and your team use every day.
Dealing with technology can be cumbersome and complex. Computrek can simplify your technology needs and support you and your team with comprehensive security and services. Book your free 1-hour Cybersecurity Risk Assessment today or visit www.computrek.ca.