The Town of Parry Sound is preparing for a busy cruise ship season, with a record number of vessels set to arrive in port this year.
Six ships, operated by four different lines — from the United States, France, Germany, and Norway — will collectively make landfall 33 times between May 21 and October 20.
That number marks a 40 per cent increase in cruise ship visits from 2022, and will extend the area's tourism season by a full month, noted Vladimir Shehovtsov, the town's economic development officer.
"The fact that we will have five cruise ship visits in October alone is very encouraging," he said.
Cruise ship activity on the Great Lakes is big business, generating an estimated US$125 million in overall economic activity in 2022, according to the industry association Cruise the Great Lakes.
Passengers typically board a vessel while it's docked in a larger port city like Toronto or Chicago before spending seven to 14 days cruising the Great Lakes, stopping at various ports for day visits along the way.
As they go, passengers spend money on experiences and tours, transportation, food, and souvenirs, among other things, giving a big boost to the economies of the communities they visit.
Plus, the ships themselves serve as "tourism magnets" for local and out-of-town visitors who may have never before encountered such massive vessels, Shehovtsov said.
"These new, big, very high-tech ships, they actually attract visitors from southern Ontario who come, in many cases, specifically to look at those fantastic, huge ships come into Georgian Bay and dock at our waterfront," he said.
This season kicks off on May 21 with the arrival of the Viking Octantis, a Norwegian Polar 6 Class ship, newly built in 2022, with capacity for 378 guests.
It's one of a handful of European ships to have recently "discovered" the Great Lakes as a region worthy of exploration, Shehovtsov said.
With destination tourism trending among operators, demand has risen for travel to areas that are still considered pristine and fairly untouched by human activity, he noted. The Great Lakes area is considered by many operators to fit into that category.
Ships will sail to places like the Arctic during the high-activity season, and then dispatch their vessels to the Great Lakes in the off-season — that's summer for us — enabling the ships to operate year-round.
And as the Ukraine-Russia war continues, limiting operators' access to the Black and Baltic Seas, the Great Lakes offer an unhampered alternative.
"Those operators are reallocating their cruise ships from Europe to new destinations, and the Great Lakes offer a new opportunity in a safe, predictable market, which is basically shared by Canada and the U.S.," Shehovtsov said.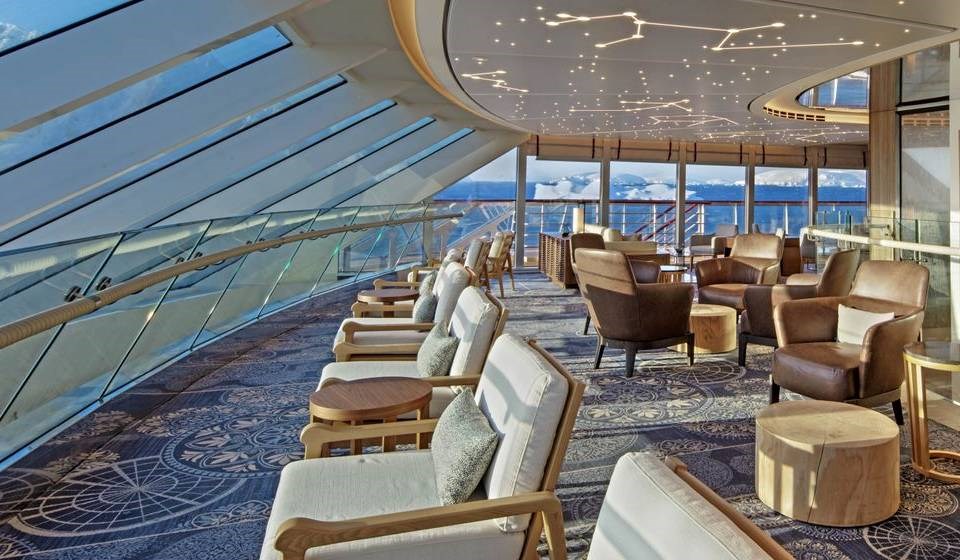 Upon arrival in Parry Sound, passengers will be greeted by attendants at an information kiosk chock full of pamphlets, flyers, maps, and other helpful documents that assist passengers in planning out their visit.
Interpreters fluent in French and German are available to provide translation services, and a shuttle bus runs downtown every 20 minutes to transport passengers between the dock and locations throughout town.
"We make life easier for the cruise ship operators, and they like to bring their ships to town because they know that they and their passengers will be well taken care of," Shehovtsov said.
Last year, the town worked closely with local small enterprises to engage passengers and bump up business.
Trestle Brewing, a local craft brewery, offered beer tastings on board some of the ships, while Parry Sound Bikes, which had previously solely provided bicycle sales and service, began hosting guided bike tours along the waterfront.
This year, the town will set up five waterfront kiosks featuring local small businesses and artisans, including Indigenous creators, selling their wares. Shehovtsov is also in talks with the organizers of Festival of the Sound, the region's signature summer music festival, to see if the times of some performances can be adjusted to accommodate cruise ship passengers.
Yet the town believes there's more it can do to fully harness the potential presented by the industry, including encouraging more overnight visits to keep the ships in port longer. This year, the Pearl Mist, a U.S. ship that's visited Parry Sound before, will overnight for two visits.
The town is also currently in talks with new entrants to the region, hailing from Europe, Australia and Asia, to include Parry Sound on its itinerary.
"I think in two years, the Town of Parry Sound may see up to 40 cruise ship visits per season," Shehovtsov predicted.
Looking four to five years ahead, the economic development officer said his goal would be to secure Parry Sound as a turnaround port — the starting or finishing point for a cruise where passengers arrive one to two days ahead of their trip.
That will require a significant financial investment on the part of the town, however, since it would need to upgrade its power and wastewater services to accommodate the needs of the massive ships.
Shehovtsov said inspections on the existing infrastructure will get underway this summer to give the town a clearer picture of the feasibility of that plan.
"When we only have 10 to 12 visits of cruise ships per season, the town thought of it as secondary," he said.
"Now, with the explosive growth of cruise ship visits to the town, we are starting to look into the cruise ship industry very, very seriously."