People in Cobalt can be protective of their tiny community in Northern Ontario, Matthew Johnson said. They can also be very hesitant around newcomers.
Especially those from Toronto.
In 2017, Johnson and his wife Dana settled in Cobalt after several years in the GTA. Their plan was to find a quiet community, raise a family, commute to the city for a bit, maybe start a new business in their adopted hometown.
They were somewhat familiar with the North — Dana has extended family in Cobalt, and Johnson spent childhood summers fishing around Temagami — so the couple hoped they could settle in without drawing too much attention.
You can imagine his surprise, then, when an 80-year-old woman, Della Dean, accosted Johnson as he was leaving the town's post office on a bright summer morning.
The way Johnson tells the story, the interaction was a little "gruff."
"Hey city boy,' she called out. 'What sets you apart besides your haircut?'"
Johnson, who has alopecia, often wears a wool paperboy cap to cover his hairless top, and thick-rimmed, Buddy Holly-style eyeglasses.
"I'm a musician," he said.
"Yeah, you and everybody else in Northern Ontario," Della said. "What else sets you apart?"
Johnson replied "I used to make boots and shoes," he said, then added "but nobody needs that anymore."
"Really?" she said, and turned around on her walker and continued up the road.
Johnson said that was the end of the conversation with Della, as far as he thought. He returned home — his family was renting an old apartment in town — and didn't give his interaction with Della much thought.
But the next day, Johnson said there was a surprise waiting outside the front door.
"I opened the door and there was a bag of old shoes," he said. "They had notes attached saying, 'Della told us that you can repair shoes. Could you please repair these? There's $50 in the bag. Call us when it's done.'"
"That was literally the next day," he said.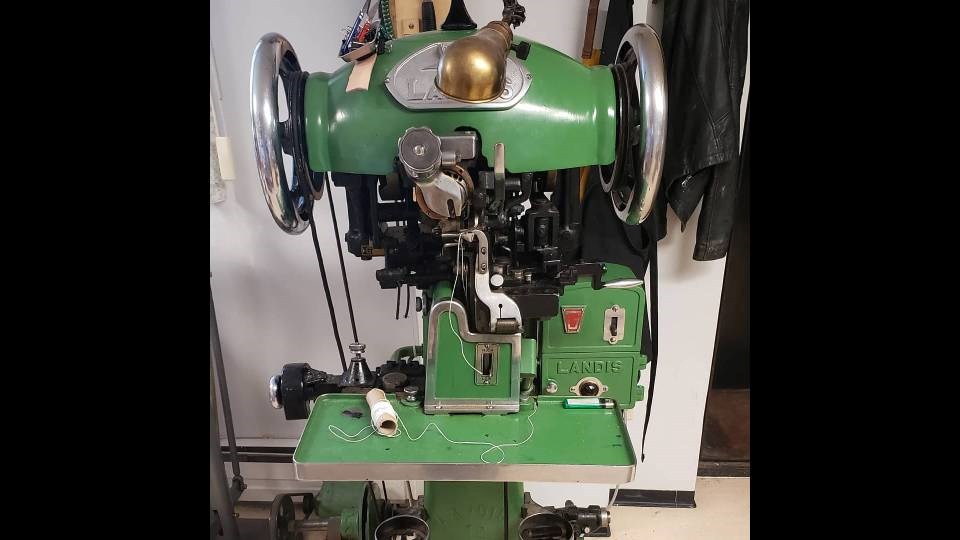 Johnson, who two decades earlier learned to make shoes under the watch of a Mennonite bootmaker in southern Ontario, set down to repairing the footwear, using his kitchen table as a workshop.
It took a bit of practice. Shoe repair — or "cobbling" as it's known — is different from building shoes from the ground up.
But the townsfolk were satisfied with Johnson's work, and soon more shoes and boots arrived at their doorstep, each with a thank you note, and an envelope stuffed with cash.
He told Dana this was just a novelty for the townsfolk, and estimated that after a few weeks the orders would die down.
"I mean, how many people use a service like this?" Johnson asked.
But orders continued to roll in. Work boots, the odd Gucci loafer, sentimental leather footwear. Antique backpacks from the mining boom. Even a leather teddy bear, found tucked into the wall during a neighbour's renovations. People were dropping off all kinds of leather items at Johnson's door.
Cobalt had found itself a cobbler.
"Every job is different, whether it's building or repairing, and every job that we do has a different impact on the person," he said. "Some people are like, 'Great, you repaired my stuff.'
"Then we've had people in here crying because we've repaired their items that have that sentimental value to them. And that's probably the most rewarding aspect of our business — being able to help people."
With his skills now on display, this kitchen table operation soon turned into a full-time job. Johnson decided he could give up his career as a Toronto-based small business advocate and concentrate on cobbling.
After a short while working from the basement of a shop in town, Dana Johnson engineered the purchase of one of Cobalt's oldest buildings: the 119-year-old Bank of Commerce building on Prospect Avenue.
It was just around Christmas when the Johnson family opened up shop.
"We were literally wheeling our stuff across the road on trolleys and people were still handing us bags of shoes and placing orders as we're moving our stuff," Johnson said.
"It was in December. It's snowing. We're moving 1,000-pound stitchers. And people are running out saying 'Matt, can you repair this?' And I said, 'Well, it's going to be a couple weeks before we're up,' and they were okay with that."
Being a cobbler puts Johnson in a fairly select group, almost a fraternity of shoemakers. And northern shoemakers have a particularly tight bond.
Johnson said he's regularly in touch with a shoemaker in Sudbury, and keeps in close contact with the family of the late Ron Villemaire, formerly the owner of Expert Shoe Repair in Kirkland Lake.
The Villemaire family even helped Johnson with the equipment needed to start a shoe repair shop.
Following the death of its owner, two Villemaire sisters, Rachel and Jeanette, put some of the shoemaking equipment up for sale. Johnson learned they were selling a highly specialized style of sewing machine.
"It was just after the birth of our daughter. I went up to Kirkland Lake, and when we walked into the shop, the sisters told me their brother had passed away," he said.
"And they proceeded to tell me that it wasn't just a sewing machine. They were offering us the entire shop, all its contents, all its equipment," Johnson said.
"They were doing that for under the market value, with the understanding that we would keep this equipment running for its intended purpose, which was to make and repair shoes and boots."
At first, Johnson said, he refused. He said he couldn't accept that a family would offer up hundreds of thousands of dollars worth of specialized equipment to a relative stranger.
But, after a few days' thought, and a lengthy phone call between the sisters and Dana, the Johnson's accepted their generosity.
"The Villiemaire family insisted that we come up the following weekend with as many pickup trucks and trailers as we could get and to clear out the shop and put everything to use to support our family and build our business," he said.
"They gifted this opportunity to us."
From a box of tools on the kitchen table to six days a week, 10 to 12 hour days.
The Cobalt cobbler began showing a bit of his work on social media. Word grew around this shoemaker in a former Northern Ontario boomtown.
The Johnsons even had a few television appearances, which drove up international sales. A spot on a British television show prompted several orders for handmade shoes.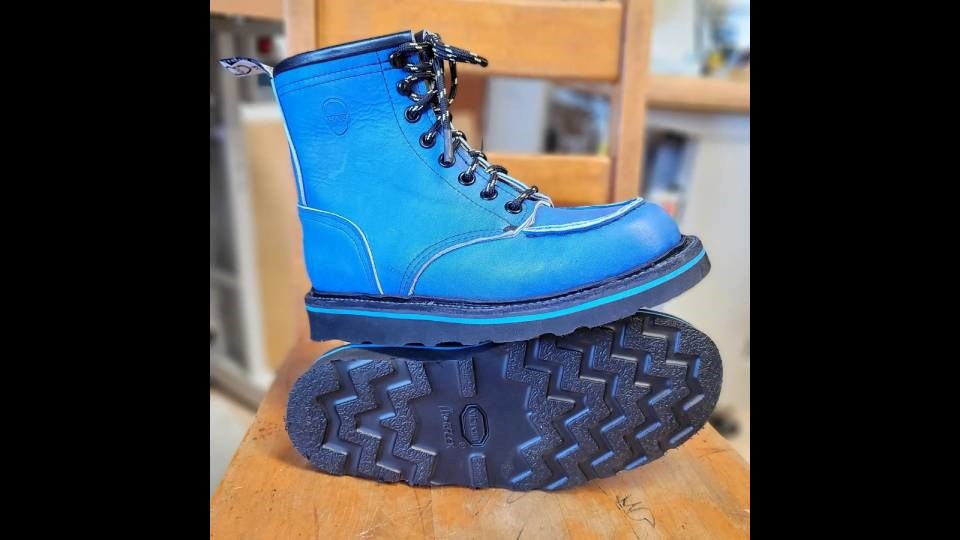 ​Again, word began to spread. Johnson says Poor Boy Soles has now made shoes for customers in almost every European country.
But international attention, and an uptick in business, is not without its own struggles.
"We do hit production bottlenecks every now and again, which is fine," Johnson said. "Most people are quite understanding."
He also said that some serious health concerns pushed his schedule back.
"It's just the ebbs and flows of business," Johnson said. "You kind of have to let life and business intermingle. They affect one another, regardless of whether you want to keep them separate or not."
As for his former life, the "big city boy" doesn't think he'll ever return to Toronto.
"We don't like going south of North Bay now," he said. "We would never move back to southern Ontario. Cobalt is our home, we are proud Cobalters, and proud to run our business and raise our family here."
And despite the international acclaim, Johnson said he won't forget that it was two Cobalt residents who were the "push" for the operation: Della, who first started telling others about his work, and another northerner, Marg Harrison.
"Without those two ladies, we wouldn't be here," he said. "It just gave us such a jump.
"They were adamant that the people of Cobalt were going to support this city boy and his northern wife and that we were going to succeed.
"I'm proud to say they call me an honorary Northerner and an honorary Cobalter."