Northwestern Ontario is one of the one of the most active areas for lithium exploration in the world.
Entering the height of the summer field season, the news flow emanating from junior mining firms is fast and furious. The projects range in progress from early-stage prospecting to more advanced mine-ready developments.
Lithium prices began booming in 2021, crashed through the first four months of this year, then finally stabilized in June.
There are no lithium mines in Ontario.
Across the border in Manitoba, the Tanco tantalum mine produces lithium as a byproduct. Quebec's Nemaska Lithium just signed automaker Ford as a customer and Sayona Mining looks to bring a lithium and mill near Val d'Or into production as early as 2026.
Two of northwestern Ontario's best mining prospects are Avalon Advanced Resources' Separation Rapids Project, outside Kenora, and Frontier Lithium's remote PAK Project, 175 kilometres north of Red Lake.
Both could come into production or start construction within a couple of years if senior levels of government can cooperate to expedite project approvals and provide support on technology and infrastructure.
Avalon has finally lifted the curtain on its mining and processing plans for the region while signing on development partners.
Frontier Lithium is babysitting two of the largest high-grade spodumene-bearing lithium deposits in North America with an initial 24-year mine life.
The Sudbury mine developer is piloting its own lithium hydroxide conversion technology. It just needs Ottawa to come forward with funds for a northern access road and bridge across the Berens Road to move the mined material out for processing.
Lithium hydroxide is the chemically processed key ingredient needed to manufacturing lithium-ion batteries for electric vehicle and plug-in hybrids.
The ground around Lake Nipigon has become prime real estate for lithium explorers. The coveted battery metal was discovered in the area in the early to mid-1950s.
One of the cornerstone projects belongs to Rock Tech Lithium and its plans to bring its 10.6-million-tonne Georgia Lake lithium oxide project into production later this year or early 2024.
Located off Highway 11 between Nipigon and Beardmore, the plan is ship lithium spodumene concentrate to Germany where the company has broken ground on a lithium hydroxide conversion plant. Rock Tech has been striking deals with European automakers to supply battery material for the electric vehicle market.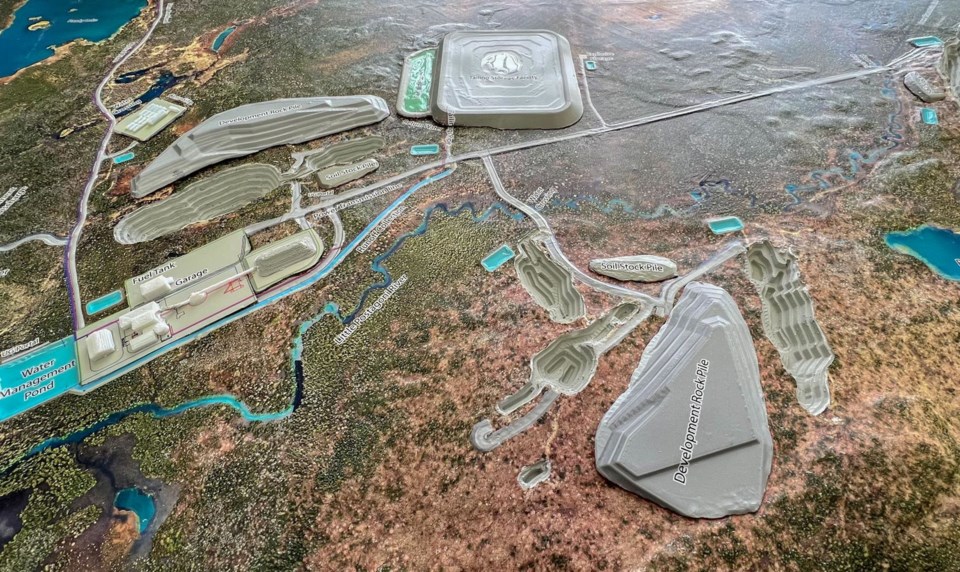 The company estimates a nine-year mine life, starting out as a pit operation before tunnelling underground.
Rock Tech recently signed an option agreement to expand its exploration footprint by 6,150 hectares.
To the south of Rock Tech's claims, Vancouver's Imagine Lithium is zeroing in on a newly discovered third zone of lithium-bearing pegmatite at its Jackpot Project, 50 kilometres north of the town of Nipigon.
The property contains two historic resources of untapped lithium oxide at 2 million tons and 750,000 tons that need to be verified and updated.
Cashed up with a $9.1-million budget, Imagine aims to do a minimum of 10,000 metres of drilling on this zone to determine its depth and strike extension along surface.
Wedged between Imagine Lithium and Rock Tech is Spod Lithium, another Vancouver junior at the grassroots stage of sampling and mapping on its 8,679-hectare North Nipigon-Niemi Project.
With the first round of exploration in the books, Spod CEO Chris Cooper expressed confidence last month that there's "potential for multiple exploration discoveries" as they wait on the results from the assay lab on over 100 grab samples.
One of the fast movers in the northwest is Green Technology Metals, an Australian explorer with two lithium projects on the go.
The aggressive Perth-headquartered outfit appeared on the scene in mid-2021 and made it known early on they were scoping out Thunder Bay as a place for a lithium processing plant.
Green Tech's Seymour Project is at the top end of Lake Nipigon. Its Root Project is northeast of Sioux Lookout. Resource estimates have been posted for both and drilling continues to enlarge the resource base.
Tentative timelines are to start mine construction at Seymour in mid-2024 with the start of lithium hydroxide production sometime in 2027.
Northeast of Seymour, another Australian junior miner, Battery Age Minerals pitched its tent seven kilometres from the town of Armstrong with its Falcon Lake Project.
Soon after inking a exploration agreement with Whitesand First Nation, the company launched a maiden drill program. According to CEO Gerard O'Donovan, they got "off to a fantastic start," hitting spodumene-bearing pegmatite rock in 10 of the first 13 drill holes.
Forty-five kilometres north of Nakina, Rock Edge Resources contracted Dahrough Geological Consulting on carry out a field program on its 6,468-hectare Superb Lake property.
The Vancouver company signed an option agreement with Medaro Mining last November to create a joint venture in the project.
Rock Edge said in a June 21 release that mapping, sampling and geophysical surveys should help them better understand the mineralization in the area. Lithium was first discovered on the shores of Superb Lake in 1950.
Toronto's Weekapaug Lithium kicked off its first round of exploration at its Nakina lithium property in late May.
Situated 90 kilometres north of Geraldton, the company contracted Planet X Exploration Services to carry out prospecting and sample collection. Old geological maps on the 7,390-hectare property show lithium, cesium and tantalum pegmatites.
Way to the west, the Dryden area has become a hot spot for more than just gold.
Northeast of the city, Critical Resources released a maiden lithium resource of 8.0 million tonnes of lithium oxide at its Mavis Lake Project in May.
Drilling continues to expand the resource and the Australian junior explorer is confident it can reach the 10 million to 12-million tonne mark when a new resource estimate comes out early next year.
​​​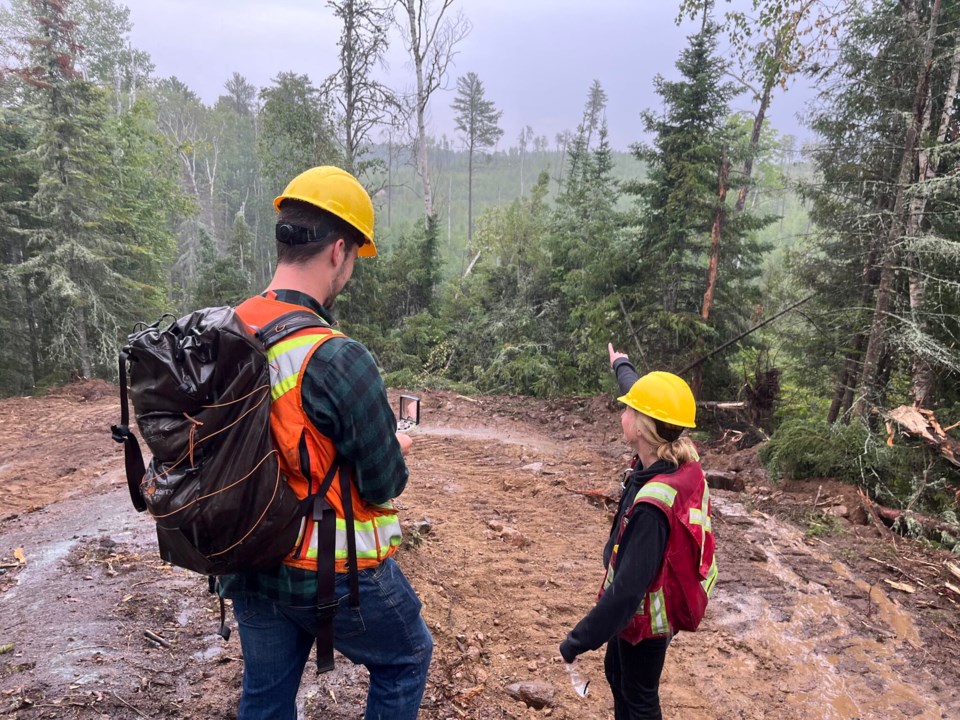 ​
Moving into the neighbourhood is Vancouver's Zimtu Capital, which signed an agreement last month to purchase a land package in the Dryden-Sioux Lookout, totalling more than 89,000 hectares.
Judging from maps provided by the Ontario Geological Survey, the company said in a recent release that there are "dozens of pegmatite outcrops" on their under-explored properties that are prospective for lithium.
About 25 kilometres west of Ignace, International Lithium announced a maiden mineral resource estimate for its Raleigh Lake lithium project last spring.
That provided motivation for Lion Rock Resources to set up camp next to them after signing an option agreement to acquire the 2,350-hectare Revell Lithium Project.
The Vancouver company is usually probing for gold and copper at the former Mayburn Mine, 80 kilometres southeast of Kenora, but decided to try lithium exploration with a prospecting, mapping and sampling this summer.
In a June news release, Lion Rock stated there's a lithium exploration boom happening and Ontario must be considered a "leading location" with the rapid advancement of many early-stage projects.
Crews from Beyond Lithium have been undertaking a pan-Northern field trip of its 64 properties, conducting first-pass prospecting.
The Winnipeg-based company has been in a staking and acquisition frenzy to acquire ground wherever there's been historic signs of lithium occurrences or sidled up to where other junior miners have made discoveries in Nipigon, Dryden, Sioux Lookout, even next to Frontier Lithium's PAK project.
Beyond Lithium's holdings in Ontario total around 150,000 hectares. Since spring, crews have been sending hundreds of batches of samples to the assay lab as they map nd assess more than 500 pegmatite outcrops in looking to establish a pecking order for future drilling.
The company bills itself as project generator. Some properties they'll advance toward an economic stage, others they'll option off.
Another new entrant to the region is Lithium One.
The Vancouver company parked next to Green Technology's Root Bay deposit, hanging out its own shingle on the Root South Project, one of its seven properties totalling 25,900 hectares in the northwest.
In June, company reported its field teams made "strong progress" mapping, prospecting and channel sampling pegmatite rock on its various properties. Hundreds of samples were shipped off to the assay lab for analysis and as they look to draw up a target list for drilling.
Lithium One is also in the Georgia Lake area with its Parks property, eight kilometres away from Rock Tech's Georgia Lake project and seven kilometres from Imagine Lithium's Jackpot lithium deposit.
First Lithium Minerals, a Toronto outfit with prospects in northern Chile, is making its first splash in Ontario.
The company announced July 5 of its acquisition of the 1,900-hectare LSL Project, 160 kilometres northeast of Sioux Lookout, near Little Savant Lake.
Previous companies ran exploration and drilling programs there in the late 1960s, turning up multiple pegmatite occurrences and several significant drill hits.
The LSL project, CEO Rob Saltsman said, has "multiple areas of interest" and past exploration work "overlooked a significant opportunity within the prospect."
The focus remains in Chile, but "the opportunity to add a highly prospective pegmatite exploration project in northwestern Ontario, a place of a recent exploration success, was very compelling to us."
Geologic mapping, including rock and soil sampling are on the menu this summer.