The general contractor for the Lorraine Street transitional housing complex in Sudbury declared bankruptcy earlier this month, leaving the project in limbo.
Work continued on site until Oct. 13, a city spokesperson confirmed to Sudbury.com, noting the second-floor installation was completed, weather-proofed, cleaned and secured.
Sudbury.com visited the site on Oct. 26, and found a vacant construction site and a partially completed building with bright red building wrap. An interview with the city was requested, but one was not granted.
A written statement was provided instead, noting, "Nomodic Modular Structures Inc. was the general contractor for the Lorraine Street project. ... Nomodic declared bankruptcy on October 6, 2023. The completion of the Lorraine Street project continues to be a priority for the city, and city staff are working closely with the Surety and the Trustee to move the project forward as originally scheduled."
The city spokesperson added that until they hear from Surety and Trustee, "we have nothing further to add as it would be speculation."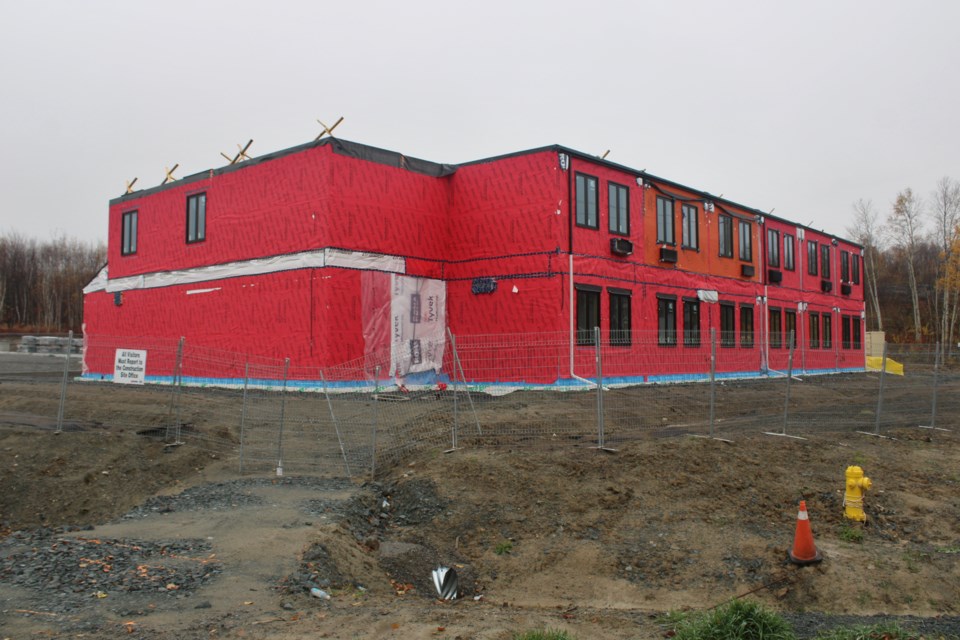 A notice by Calgary-based FTI Consulting notes, "On October 6, 2023, FTI Consulting Canada Inc. was appointed as trustee in bankruptcy of Nomodic Modular Structures Inc., Aithra Projects Inc., and Nomodic Modular Structures (Ontario) Ltd. pursuant to an Order of the King's Bench of Alberta."
The four-storey, 40-unit transitional housing complex was previously expected to open in November. It's a modular build, with its modules built in segments at an Apex Modular facility in Dundalk, a village in southern Ontario.
Nomodic Modular Structures Inc. was awarded the project's tender on Sept. 16, 2022. Their head office is in Calgary, and their Ontario operations are based in Burlington.
The building's 40 residents will be people who are considered chronically homeless, and will include referrals and people on the city's by-name list (those experiencing homelessness).
Health Sciences North partnered with the city to hire an Assertive Community Treatment Team to provide support for residents. A smaller version of the team started work at a temporary pilot site at the start of 2022.
A groundbreaking ceremony for the project was held in June, at which time it was still anticipated to open by the end of the year.
A city spokesperson clarified to Sudbury.com that the 14-unit Sparks Street affordable seniors housing complex is unaffected, as it is unaffiliated with Nomodic Modular Structures Inc. Woodbridge-based Buttcon Limited is the general contractor on that project.
Court filings for the bankruptcy note that their insolvency came as a result of global supply chain issues, fixed-price contracts, cost overruns in completing projects, among other issues.
Tyler Clarke covers city hall and political affairs for Sudbury.com.