Marten Falls First Nation (MFFN) has prepared a Terms of Reference (ToR) for an Individual Environmental Assessment for the proposed Marten Falls First Nation Community Access Road Project (the Project). The ToR has been submitted to the Ministry of the Environment, Conservation and Parks (MECP) for review as required under the Environmental Assessment Act. If approved, the ToR will serve as a framework for the preparation and review of the environmental assessment for the Project. As part of the submission process, Indigenous communities, government agencies and interested persons are encouraged to review the ToR and submit comments to the MECP.
The Project:
MFFN is a remote First Nation community in the Far North of Ontario, located at the junction of the Albany and Ogoki rivers, approximately 170 km northeast of Nakina, Ontario. The proposed Project will be a multi purpose all-season community access road approximately 190 km to 230 km in length that will connect the MFFN community to the Ontario provincial highway network. The alternative routes being carried forward to the environmental assessment are shown on the accompanying map.
MFFN has entered into a voluntary agreement with the MECP to subject the Project to the Environmental Assessment Act. The ToR submitted for review considered comments received by MFFN on the Draft ToR. If approved by the Minister of Environment, Conservation and Parks, MFFN will begin the EA in accordance with the Minister-approved ToR and Environmental Assessment Act to assess and evaluate the potential effects of the alternatives and recommend impact management measures to avoid and / or minimize the predicted effects.
Project Purpose:
MFFN community is currently accessible by air transportation and a winter road constructed on an annual basis. The winter road has been determined to be insufficient for the community and other transportation needs primarily due to the limited reliability of open winter road access. The purpose of the Project is to improve the well-being of MFFN by providing reliable year round access to the community. The road is intended to provide increased travel safety, reduced price of food, fuel and supplies, improved community social, health, education and wellness services, in addition to providing the MFFN community with future economic development opportunities. The road will be multi-purpose; it will be used by both community and others which may include industry.
Review of the Terms of Reference:
The ToR will be available for review beginning October 23, 2020 for a period of 60 days. The ToR and supporting documents can be accessed digitally on the Project website at http://www.martenfallsaccessroad.ca. Hard copies can be inspected in-person at local Indigenous community band offices and the following viewing locations:
Greenstone Public Library – Geraldton Branch: 405 2nd St. W., Geraldton
Greenstone Public Library – Longlac Branch: 110 Kenogami Drive, Longlac
Sioux Lookout Public Library: 21 Fifth Avenue, Sioux Lookout
Matawa First Nations Management: 233 S. Court Street, 2nd Floor, Thunder Bay
Timmins Public Library: 320 2nd Avenue, Timmins, ON P4N 8A4
The ToR can be inspected in-person only at those viewing locations that are open to the public at the time the Notice of Submission is issued. Comments about the ToR must be made in writing to the MECP by 5:00 p.m. on December 21, 2020. All comments must be submitted to:
Sasha McLeod and Shannon Gauthier
Special Project Officer and Project Officer
Ministry of the Environment, Conservation and Parks - Environmental Assessment Branch
135 St. Clair Avenue West, 1st Floor, Toronto, ON M4V 1P5
Tel: 416-268-5984 / 416-258-8215
Email: sasha.mcleod@ontario.ca and shannon.gauthier@ontario.ca
A copy of all comments submitted to the MECP will be forwarded to the Proponent for consideration. For further information on the Project, contact:
Lawrence Baxter
Senior Community Member Advisor, MFFN James McCutchon
Project Manager, AECOM
1-800-764-9114
info@martenfallsaccessroad.ca www.martenfallsaccessroad.ca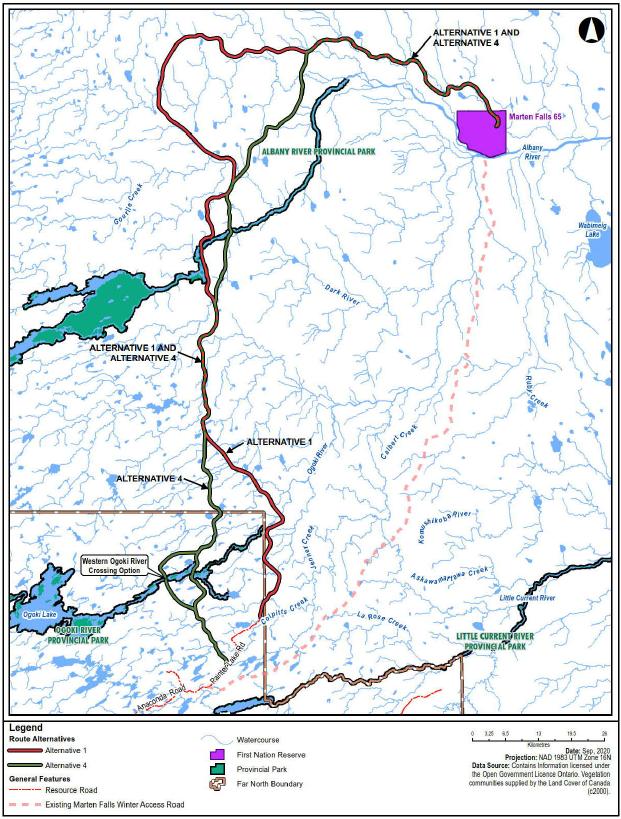 Si vous souhaitez une copie de cette notification en français, veuillez visiter le site Internet du projet ou envoyer un email au projet pour en demander une copie. All personal information included in a submission – such as name, address, telephone number and property location – is collected, maintained and disclosed by the Ministry of the Environment, Conservation and Parks for the purpose of transparency and consultation. The information is collected under the authority of the Environmental Assessment Act or is collected and maintained for the purpose of creating a record that is available to the general public as described in s.37 of the Freedom of Information and Protection of Privacy Act. Personal information you submit will become part of a public record that is available to the general public unless you request that your personal information remain confidential. For more information, please contact the Project Officer or the Ministry of the Environment, Conservation, and Park's Freedom of Information and Privacy Coordinator at 416-314-4075. Date Published: October 23, 2020
---
AVIS DE PRÉSENTATION DU CADRE DE RÉFÉRENCE
La Première Nation de Marten Falls (PNMF) a déposé le cadre de référence (CdR) d'une évaluation environnementale distincte visant le projet de route d'accès communautaire de la Première Nation de Marten Falls (ci-après le « Projet »). Le CdR a été soumis au ministère de l'Environnement, de la Protection de la nature et des Parcs (MEPP) aux fins d'examen, comme le prévoit la Loi sur les évaluations environnementales. S'il est approuvé, le CdR servira à encadrer la préparation et l'examen de l'évaluation environnementale du Projet.
Dans le cadre du processus de présentation, les communautés autochtones, les organismes gouvernementaux et les parties intéressées sont invités à examiner le CdR et à soumettre leurs commentaires au MEPP.
Le Projet
La PNMF est une communauté autochtone du grand nord de l'Ontario située à la confluence des rivières Albany et Ogoki, environ 170 km au nord-est de Nakina, Ontario. Le Projet consiste en une route d'accès communautaire polyvalente toutes saisons d'une longueur d'environ 190 à 230 km qui reliera la collectivité de la PNMF au réseau routier provincial de l'Ontario. Les différents tracés mis de l'avant dans l'évaluation environnementale figurent sur la carte d'accompagnement.
La PNMF a conclu un accord volontaire avec le MEPP visant à soumettre le Projet au régime de la Loi sur les évaluations environnementales. Le CdR soumis pour examen prend en considération les commentaires reçus par la PNMF sur l'ébauche du CdR. Sous réserve de l'approbation du ministre de l'Environnement, de la Protection de la nature et des Parcs, la PNMF amorcera l'évaluation environnementale conformément au CdR approuvé par le ministre et à la Loi sur les évaluations environnementales, dans le but d'évaluer les effets potentiels des différents tracés et de recommander des mesures de gestion des impacts susceptibles d'éviter ou d'atténuer ces effets.
Raison d'être du Projet
À l'heure actuelle, la PNMF est accessible par voie aérienne et par une route d'hiver qui doit être reconstruite chaque année. La route d'hiver a été jugée insuffisante pour répondre aux besoins de la communauté et à d'autres nécessités de transport, une situation attribuable en grande partie à la fiabilité déficiente de la route d'hiver. La raison d'être du Projet est de contribuer au bien-être de la PNMF en fournissant un accès fiable à la communauté toute l'année durant. La route procurera les avantages suivants à la PNMF : transport plus sécuritaire, réduction du prix des denrées alimentaires, du carburant et des fournitures, amélioration des services sociaux, des soins de santé et de l'éducation et occasions futures de développement économique. La route sera polyvalente; elle sera utilisée à la fois par la communauté et par d'autres usagers, y compris l'industrie.
Examen du cadre de référence
Le CdR pourra être consulté par le public à compter du 23 octobre 2020, pour une période de 60 jours. Les versions numériques du CdR et des documents à l'appui peuvent être consultées sur le site Web du projet : http://www.martenfallsaccessroad.ca. Des exemplaires imprimés de ces documents seront disponibles pour consultation en personne dans les bureaux administratifs des communautés autochtones et aux endroits indiqués ci-dessous.
Bibliothèque publique de Greenstone – section Geraldton : 405 2nd St. W., Geraldton
Bibliothèque publique de Greenstone – section Longlac : 110 Kenogami Drive, Longlac
Bibliothèque publique de Sioux Lookout : 21 Fifth Avenue, Sioux Lookout
Administration des Premières Nations de Matawa : 233 S. Court Street, 2nd floor, Thunder Bay
Bibliothèque publique de Timmins : 320 2nd Avenue, Timmins, Ontario, P4N 8A4
Le CdR pourra être consulté en personne à ces endroits seulement, qui sont ouverts au public à la date de publication de l'avis de présentation. Les commentaires sur le CdR doivent être soumis par écrit au MEPP d'ici le 21 décembre 2020, à 17 h. Tous les commentaires doivent être envoyés à :
Sasha McLeod et Shannon Gauthier
Agent des projets spéciaux et agente de projet
Ministère de l'Environnement, de la Protection de la nature et des Parcs – Direction des évaluations environnementales 135 St. Clair Avenue West, 1st Floor, Toronto, Ontario, M4V 1P5
Tél. : 416-268-5984 / 416-258-8215
Courriel : sasha.mcleod@ontario.ca et shannon.gauthier@ontario.ca
Une copie de tous les commentaires soumis au MEPP sera envoyée au promoteur pour examen. Pour de plus amples renseignements sur le Projet, veuillez communiquer avec :
Lawrence Baxter
Senior Community Member Advisor, PNMF
James McCutchon
Project Manager, AECOM
For an English copy of this Notice, please visit the Project's Website or request a copy from a Project representative by email.
1-800-764-9114
info@martenfallsaccessroad.ca www.martenfallsaccessroad.ca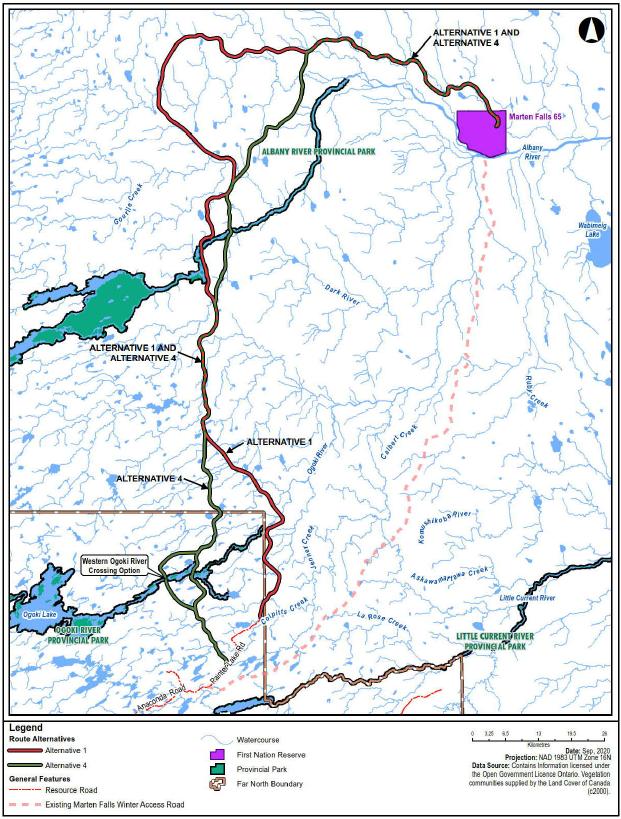 Tous les renseignements personnels, comme le nom, l'adresse, le numéro de téléphone ou l'emplacement d'une propriété, figurant dans une soumission ou une demande d'information seront recueillis, conservés et rendus publics par le ministère de l'Environnement, de la Protection de la nature et des Parcs pour des raisons de transparence et de consultation. Les renseignements seront recueillis et conservés sous le régime de la Loi sur les évaluations environnementales, ou dans le but de créer un document accessible au grand public comme il est décrit à l'article 37 de la Loi sur l'accès à l'information et la protection de la vie privée. Les renseignements personnels que vous fournirez seront publiés dans un document accessible au grand public, à moins que vous ne demandiez que ceux-ci demeurent confidentiels. Pour en savoir plus à ce sujet, veuillez communiquer avec le gestionnaire du Projet ou avec le coordonnateur de l'accès à l'information et de la protection de la vie privée du ministère de l'Environnement, de la Protection de la nature et des Parcs au 416-314-4075.
Date de publication : 23 octobre 2020