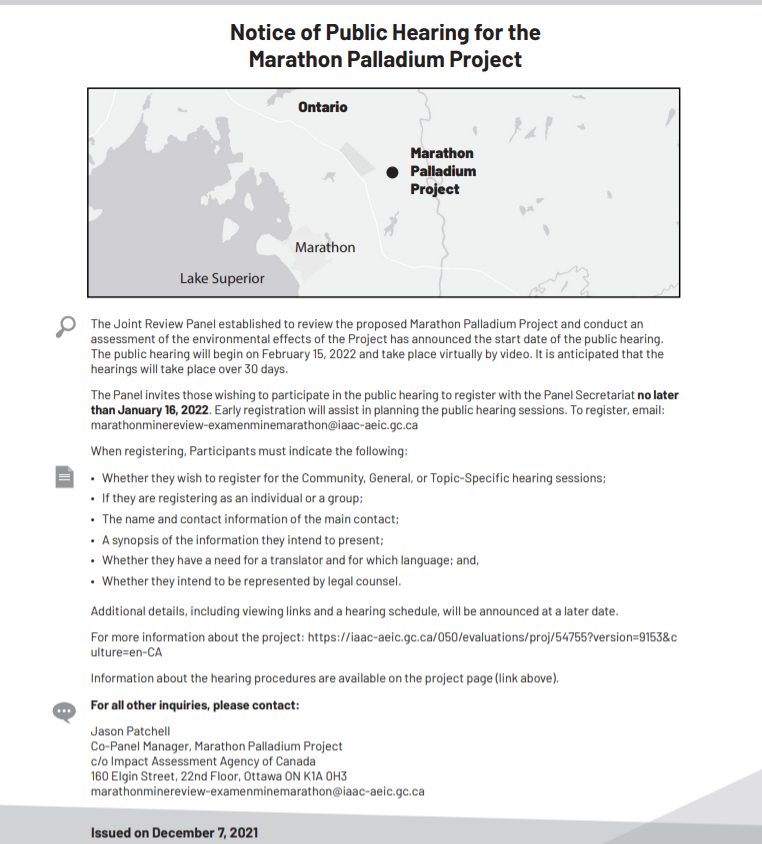 The Joint Review Panel established to review the proposed Marathon Palladium Project and conduct an assessment of the environmental effects of the Project has announced the start date of the public hearing.

The public hearing will begin on February 15, 2022 and take place virtually by video. It is anticipated that the hearings will take place over 30 days.

The Panel invites those wishing to participate in the public hearing to register with the Panel Secretariat no later than January 16, 2022. Early registration will assist in planning the public hearing sessions. To register, email: marathonminereview-examenminemarathon@iaac-aeic.gc.ca.

When registering, Participants must indicate the following:
Whether they wish to register for the Community, General, or Topic-Specific hearing sessions;
If they are registering as an individual or a group;
The name and contact information of the main contact;
A synopsis of the information they intend to present;
Whether they have a need for a translator and for which language; and,
Whether they intend to be represented by legal counsel.
Additional details, including viewing links and a hearing schedule, will be announced at a later date.

For more information about the project: https://iaac-aeic.gc.ca/050/evaluations/proj/54755?version=9153&c ulture=en-CA

Information about the hearing procedures are available on the project page (link above).

For all other inquiries, please contact:
Jason Patchell Co-Panel Manager, Marathon Palladium Project c/o Impact Assessment Agency of Canada
160 Elgin Street, 22nd Floor, Ottawa ON K1A 0H3
marathonminereview-examenminemarathon@iaac-aeic.gc.ca
Notice Marathon Palladium Project — Joint Review Panel Notice of Public Hearing for the Marathon Palladium Project
Issued on December 7, 2021