The City of North Bay has launched a new one-stop shop for all its geographic information systems (GIS) data, where the public can learn about zoning, follow local transportation routes, or even discover the best winter sliding hill.
Introduced last fall, Explore North Bay is a new online portal that houses all the city's maps, applications, and community statistics.
Gathering GIS data is nothing new for the city. Much of this information has existed in one form or another for years, noted Tim Price, the city's GIS coordinator, and it's continually being updated.
But, until now, finding it when one needed it could be a difficult task.
"In the past, they were scattered within the city's website, on different pages, whether it was an economic development page or a transit page," Price said.
"We didn't really have a great collection, or we couldn't coalesce all these little things into one place, and the hub allows us to do that."
The platform itself is a product of Esri, the leading player in the GIS market. Designed for its simplicity and ease of use, users like the City of North Bay can simply drag and drop their maps into the hub, and it's ready to go.
Visitors to the hub will find a number of static maps for things like tourism attractions, toboggan hills, waste collection zones, and major transportation routes.
But there are also map applications, which enable users to zoom in or look at different layers of the map.
On the zoning map, for example, the entire city is laid out in a rainbow of colour-coded parcels to show areas that are zoned rural, commercial, residential, institutional, and more.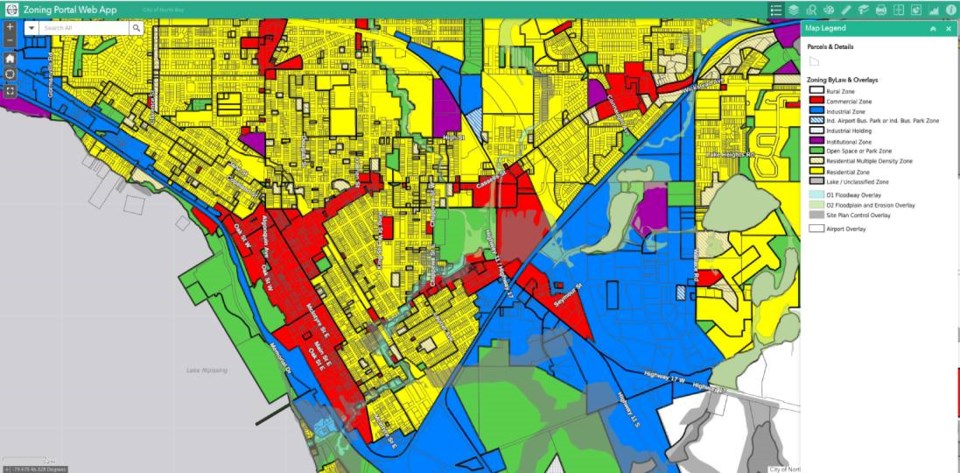 The hub also boasts a collection of interesting statistics, like the fact that the City of North Bay currently counts 2,323,008 trees in its inventory.
For that last statistic, the city's GIS staff filtered through data from the Ministry of Natural Resources and Forestry collected through light detection and ranging (LiDAR), a surveying method commonly used in forestry.
"The goal for that particular project was to develop tree canopy inventory for the whole city," Price said.
That report still has to be finalized, he noted, but it did enable the city to get an idea of the vast number of North Bay's trees.
"It helps us understand our forests and our urban trees within the city."
In the bigger picture, this type of information helps provide a snapshot of the City of North Bay and what it has to offer, whether it's for developers, visitors, business owners, or potential future residents.
Over Christmas, when the city hosted its Downtown Old-Fashioned Christmas Walk, a festive shopping and cultural event to celebrate the holidays, staff developed a mobile-friendly app that laid out all the festive attractions available to visitors.
"We know that our downtown shop owners often say this is the busiest night of the year — they're open late, there's lots of foot traffic — so there's some benefit there," Price said.
"And some of those applications are really quick wins, because we have the data and we can get the site up in a couple of hours."
One economic development project currently being considered is a vendor's map, which would streamline the licensing process for short-term vendors, like food trucks.
In general, making this information easy to access enables the city to be more transparent and engage with its citizens and business partners.
Price said more of this data will eventually make its way to the public domain where everyone from contractors to students to industry in general will be able to access it and "make better informed decisions."
"They can import it into their own systems; they can even make their own applications and maps," he said. "So we're looking forward to that."