One of the North's hidden gems might not be for very much longer as a new project gets underway to bring affordable housing to Markstay-Warren.
The rural municipality of 2,800 people, located about a 40-minute drive east of Sudbury, is partnering with the local chapter of Habitat for Humanity on a large-scale affordable housing strategy that aims to refresh its housing stock while also drawing new residents to the area.
Bookended by Sudbury to the west and North Bay to the east, Markstay-Warren is a haven for young families, workers commuting to either city, as well as retirees who appreciate the slower pace of life.
Yet despite its beauty and affordability, the municipality has seen very little new development in recent years, said Mayor Mayor Steve Olsen, who describes Markstay-Warren as the area's "best kept secret."
"There hasn't been very much growth in the last decade. I don't think there's even been more than 10 houses built," said Olsen, a lifelong resident.
"Now we are aiming to do that and much more within a year if everything goes as planned."
Want more business news from the North? Subscribe to our newsletter, delivered to your inbox three times a week.
Announced in July, the Habitat partnership calls for the development of a five-year affordable housing strategy that aims to build as many homes in as short a timeframe as possible.
Markstay-Warren will provide administrative support — zoning, bylaws, master plans — while Habitat will leverage its long expertise in affordable home-building.
A number of other partners have already come on board, including Soublière Constructors, an Ottawa-based subcontractor that specializes in metal stud framing, and MetaLigna Modular of Arnprior, which builds modular homes.
Sudbury's 3rdLine.Studio is the architect of record on the project, and Polestar has signed on for construction management.
Kim Morris, who serves as Markstay-Warren's acting CAO, clerk and treasurer, said the project is very much a "right place at the right time" kind of endeavour.
Morris had worked previously with Michael Cullen, the director of community partnerships with Habitat for Humanity Ontario Gateway North, and she approached him to talk about affordable housing for seniors. After some initial discussion, the idea expanded to a larger-scale project.
Morris credits the current council's open, forward-thinking mindset as key to the partnership.
"We have a new, vibrant council, a new mayor, and it was exactly the kind of project that they could sink their teeth into," she said.
Cullen, a former executive director of United Way Centraide North East Ontario, was hired by Habitat in 2022.
His mandate involves helping to revive small, rural communities across the North through housing development.
With the average price of a Sudbury house topping out at $500,000, many would-be homeowners simply can't afford to own their own home in the city, Cullen said.
But the average cost of a home in Markstay-Warren hovers around $333,000, he noted, which is a "beautiful starting point."
"Maybe it's more attractive for aging seniors or young families or working professionals, or those now working from home, to reside in these communities where the price of homes is significantly lower than the city of Sudbury," he said.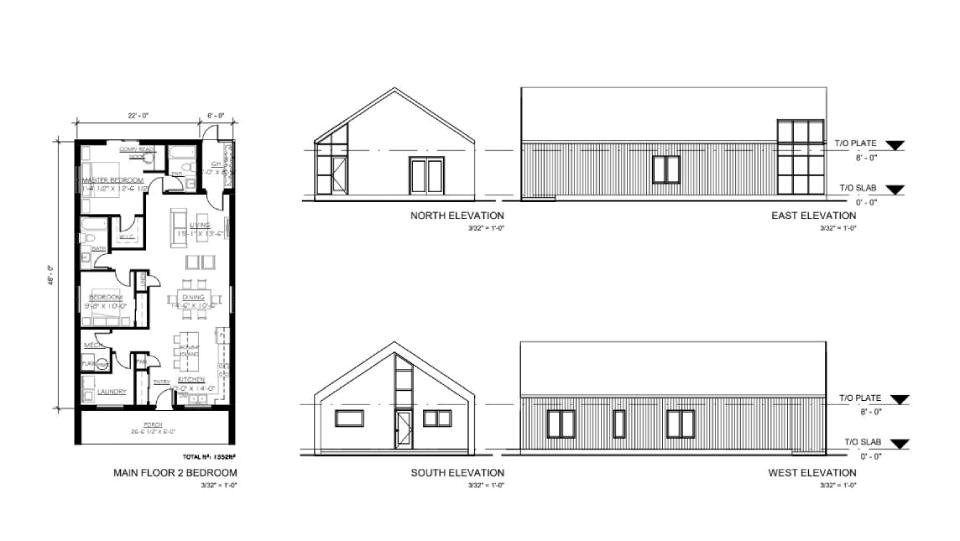 ​Modular construction is being proposed for the homes in the Markstay-Warren project, which will make them more affordable and faster to build, Cullen said. That means a home can go up in days or weeks rather than months.
Presently, Habitat's top priority is to build single-family dwellings for families. But Cullen said other options may be feasible, including affordable rental complexes, apartment buildings, seniors housing, or mixed use development.
A series of consultation sessions, slated for the fall, will help winnow down the options and determine what the community really needs.
"It's really important that we do this with community input," Cullen said. "We don't just want to put up homes and hopefully they fill. We have to engage the community."
At least one partner is eyeing the area for industrial expansion as well.
Karsh Singh, the president of Soublière Interiors, has voiced his intention to explore the possibility of establishing a modular home manufacturing facility in Sudbury or elsewhere in the North.
Modular housing components would be manufactured at the plant and shipped to communities across the North, boosting economic activity and creating employment for locals.
"By embracing modular construction techniques, we can streamline the building process, enhance efficiency, and further reduce costs, all while maintaining the highest standards of quality," Karsh said in a letter of support for the project.
"Our endorsement of this partnership and our interest in modular construction reflects our unwavering commitment to addressing the pressing issue of housing affordability."
Habitat is currently pursuing talks with a financial lender to explore additional funding for the project, and once that's secured, Cullen estimated construction on the first homes could get underway next spring.
That can't come soon enough for Olsen and Morris, who said the municipality is already working on creating information packages to welcome potential homeowners to the community. They're also in talks with a consulting firm to design a full marketing campaign around the project.
It will be targetted at former residents who have left Markstay-Warren for school or work and are looking for opportunities to return, as well as newcomers who value a quiet, rural lifestyle.
"We know, with interest rates and housing costs, how difficult it is to be able to buy that first house or be able to have a house just to grow their family, and this is a perfect opportunity for them," Morris said.
The partners will meet in September to officially sign a memorandum of understanding and discuss the next steps for the project.
If it goes ahead as planned, Habitat would aim to replicate the template in other small communities across Northern Ontario.
Olsen said his community will be happy to share what they've learned with anyone who's interested.
"We are just so excited about it," Olsen said.
"It's truly a great opportunity that's fallen on our lap at the perfect time and we're certainly going to do everything possible to make this a reality for the betterment of the municipality, and for the betterment of our neighbouring municipalities as well."