This Northern Ontario Business of the Month feature was made possible through the support of Laurentian University.
---
In December 2021, Marion Robinson suffered a stroke that left her paralyzed, to the point where she resigned herself to never walking or using her hands again.
Movement required the use of a lift, Robinson said, and she had pretty much given up on regular, day-to-day things like going for a walk or sitting down to watch TV with friends.
"You feel useless, especially when you've been active all of your life," Robinson said. "And now you're kind of invalid. Handicapped. It's never what you thought it would be like."
But a close friend came across a television story profiling MyHand, a device designed to help stroke victims recover the use of their hands. The designer, a Sudbury-based company called IRegained, was working through the prototype stage and looking for volunteers to help test it.
After some prodding from friends, Robinson volunteered to help test MyHand, and the rest, she says, is history.
"At first it felt like it wasn't real," she said. "This electronic thing, you put your hands in and you see things move on the screen."
The product itself is no bigger than a typical home printer. With the assistance of a clinical lead, the patient slips their hand inside the custom-sized glove which can measure pressure exerted by each finger (MVC, or maximum voluntary contraction). An attached tablet allows the patient to control a game-like environment on the screen.
Robinson said after a few sessions with MyHand, she is regaining use in her left hand.
"It's amazing how they would think of something like this," Robinson said. "Because I'm sure there's lots of people like me."
The statistics back up Robinson's claim. According to a paper published in the Canadian Journal of Neurological Sciences, over 100,000 Canadians suffer strokes annually, while Heart and Stroke Canada says the number of Canadians who are living with stroke has increased to 878,000.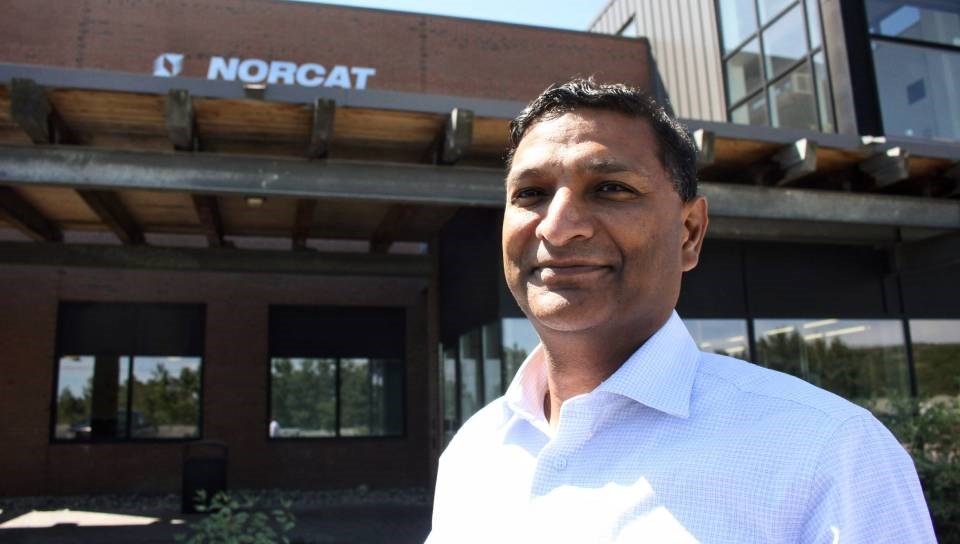 FDA approval paves way for American expansion
Individual success stories aside, IRegained is now poised to cross another milestone.
In January, the tech company received FDA approval to market MyHand in the United States.
IRegained CEO Vineet Johnson said the approval now opens up the lucrative American market, but also paves the way for expansion overseas.
"This is just one small milestone in our goal," Johnson said. "We're in for the long haul."
That includes an expansion of its Sudbury workforce. IRegained currently has 16 on staff — coders, engineers, clinicians — but Johnson said he expects that number to increase in the coming weeks to meet the global demand for his product.
Johnson said they've already inked deals with several American hospitals — the Walter Reed Hospital in Maryland is one of the biggest hospitals to express interest — and have partnerships in Taiwan and India.
McMaster University in Hamilton, as well as American clients in Ohio and Florida, are also testing the device.
But despite the global reach, don't expect Johnson to lose sight of the company's roots.
"We call Sudbury our global headquarters," Johnson said. "Our primary base will always be Sudbury."
That's a pretty big commitment for a company that started as just an idea in 2016.
"We are super excited with the progress we've made," Johnson said. "Particularly with the contribution from the city of Sudbury in terms of investment and in terms of most of our employees, who are all Sudbury born and raised."
What does IRegained make?
Call it a medical technology company, or a venture that blends modern technology with cutting edge physiotherapy knowledge.
The skill set across the small staff runs the gamut from video game developers to physiotherapists. Spend a few minutes in IRegained's open-concept lab, and you'll hear conversations drift easily between high-tech AI concepts, kinesiology, international marketing and pop culture.
Their goal remains the same, though. Help people recover the use of their damaged hands.
Eric Dumais, a graduate from Laurentian University's kinesiology program, started at IRegained as an intern in 2020, and is now the team's clinical research lead.
The secret to perfecting MyHand has been "build a little, test a little."
"We've gone through probably 14 iterations of the device in two years," he said. "Every single time we build a new device, we test it for two months, with as many as 12 to 16 volunteer patients."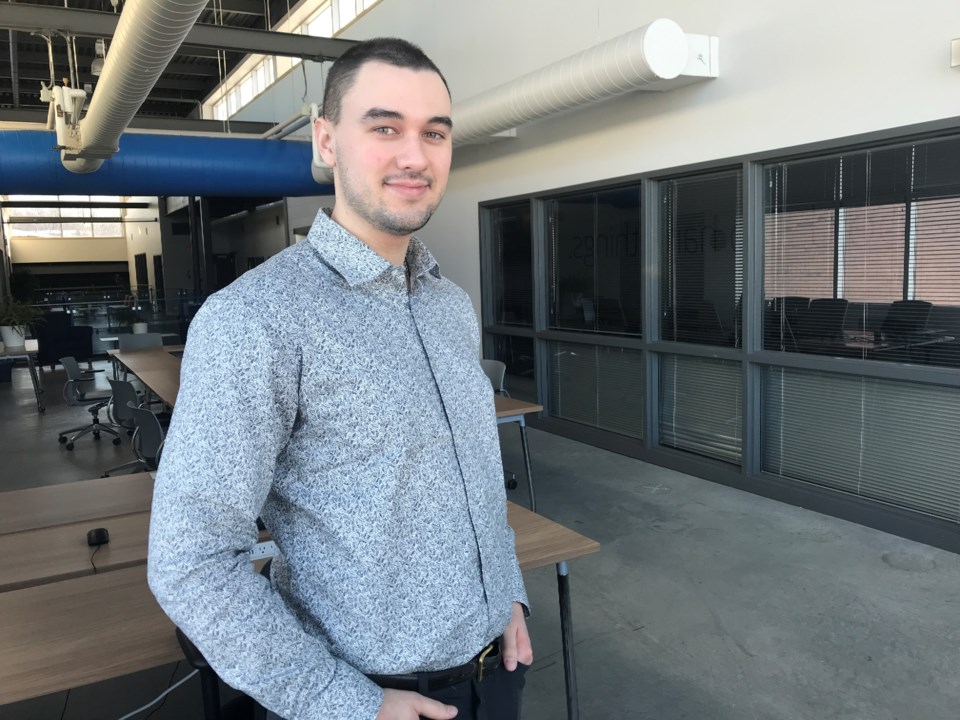 An early version of the product, which currently sits in the CEO's office — "the museum," Dumais calls it — was wood-encased, with larger, inflexible cups for the patient's hand to rest in.
Since then, MyHand has graduated to a sleek, clinical-looking apparatus, a pared down, 3D-printed housing that incorporates modern aesthetics as well as technological advances.
A tablet, for example, folds out from the top of the device so the patient can interact with the unit in the same way one would check the weather or play a game on their device. Mobility is also a consideration. MyHand sits on a wheel base, allowing patients and clinicians to move the device around the room.
On the screen, users have the option of selecting from 10 custom-designed apps or games to play. The design team makes it seem fun — navigating an astronaut through colourful planetary rings while avoiding asteroid belts, for example — but the end result is a combination of game design knowledge and physiotherapy.
"You have to make it engaging, and you have to make it available at all times for them to do," Dumais said. "We are creating addictive games that people get hooked on, but the only way to play those games is to do therapy."
That approach will come as a relief to anyone who has been tasked with a training regimen by a physiotherapist. As Dumais said, those tend to be repetitive, even boring.
"One of the biggest problems in physiotherapy is what we call exercise adherence," Dumais said. "People actually sticking to their exercise plan.
"But if we gamify it and make it fun to do, then it's going to be a lot cooler. If I tell you to go out and read 100 books, would you rather read comic books with cool action shots? Or would you rather read a boring philosophy text book?"
The end result, Dumais said, is to help patients learn to utilize the existing brain tissue that surrounds the damaged area, to perform the job it had previously been doing.
"The consensus now in the field is that this is possible," Dumais said, comparing it to how the brain and body work together to learn a new skill, like tennis.
"I don't know how to play tennis right now. But I'm sure if I put in 20 to 30 hours a week for the next six months, I'd get pretty good," he said. "My brain would be able to relearn or learn a whole new task using different parts of my brain that it's not using right now."
And the potential of MyHand goes beyond stroke patients, Dumais said. He expects the device will also be used with others who have similar neurological impairments. People injured in motor vehicle accidents, for example.
"Some of the cases are rare, some not so rare, but we test them to make sure that it works on a broad spectrum of people," Dumais said.
That will come as a relief to patients like Robinson.
"They're nice, here. But they know how to do their job, too," she said. "And they know how to encourage you to feel better.
"And that's what we all need. Even people who are well need somebody to boost us up a little. And on a team like this, how can you lose?"